I urge not just aspiring pilots, but all people working towards a dream to read this article (Brandon Bullhorn)
Latest Update: Pilot-Less Aircraft
Contents
See also
"Please help me!"
Dear Richard,
I am currently undertaking my private pilots licence with the intentions of hopefully becoming an airline pilot in future.  I am just wondering if you could possibly take a short amount of time to give me some tips with regards to flying and the best approach for me.
I have read your book "QF32".  It  has inspired me even more to continue with a career in something I am so passionate about.
Thank you!
Emily Redmond
Richard Responds
Thanks for your question Emily.   I don't have sufficient time to respond personally to the hundreds of people who ask me similar questions.  So I have amassed all of my answers into this blog that I will update regularly.  Please:
post any unanswered questions at the end of this blog,
revisit this page occasionally to find new and updated information, and
select "FOLLOW THIS BLOG" at the top right of this page to receive updates
The Lancet
I include (for fun) italicised quotes from "THE LANCET" dated the 28 September 1918.  
The report is headed "The Essential Characteristics of Successful and Unsuccessful Aviators" by T. S. RIPPON (Captain RAMC, attached RAF) and E. G. MANUEL (Lieutenant RAF)  (Thanks to Robert Wilson, Editor Flight Safety Australia, CASA for the research)
"Science, Freedom, Beauty, Adventure… aviation offers it all!"  (Charles A. Lindberg)
Disclaimer
Back to: Aviation Pathways
Aviation is more than just a difficult career, it's a difficult life as well.   (I am writing this paragraph on a Sunday morning sitting in a hotel in Dubai 7,000 miles away from my loving family)
Nothing in life comes easy.   Aviation is a hard and time consuming journey and not one for the distracted or impatient.  You will have to work hard if you want a successful career in aviation.  The effort needed to learning to fly is less than 1 percent of the effort needed to gain the knowledge, training and experience to become a safe and efficient jet pilot.  The challenge is to improve your skills commensurate with increasing responsibility as you methodically work your way towards the jet's left hand seat.
Every take off is against the wind
Your aviation life will have highs and lows, it won't be easy.  Every take off is against the wind
The highs are real and measurable.   Your feelings and emotions of  love, thrill and excitement of flying result from surges of the human body's natural (and sometimes addictive) hormones.
 You will remember the natural "highs" that we feel after the pleasure of:
passing your Wing's Parade, Conversion courses and licence tests (dopamine);
fly the fastest most powerful and complex aircraft in difficult circumstances (dopamine);
commanding an expert crew of pilots and cabin crew (serotonin);
being a leader who creates a safe, supporting and productive environment  (serotonin);
bonding with the crew and passengers (the parents and grand parents, nervous fliers and excited children)  (oxytocin)
being respected and thanked by passengers who tell you as they leave the aircraft that your flight was "the best that I have ever had"  (serotonin)
The unfortunate (though case-hardened) pilots will never forget their negative feelings of panic, fatigue and fear that might have accompanied:
surviving emergencies (adrenaline); and
flying to a safe landing in adverse (fog, ice,  turbulent, windy) weather (cortisol).
Rewards in your life lie beyond your comfort zone
The cost of entry to the cockpit is high; physically, emotionally and financially.   You need to be determined, confident and courageous because there is no easy path to flight, and rewards lie beyond your comfort zone.
Aviation is a stressful career.  Pharma Dynamics survey of 2,000 South Africans found pilots have the most stressful careers (working long hours, being exposed to public scrutiny, dealing with risk and conflict).
Don't plan nor expect to be helped through these stressful phases as they are ultimately your own personal challenges.   If you don't have the money to learn to fly then it's your responsibility (not others) to research the alternative paths.
This is gold dust.  I'm a PhD and past senior Lecturer in Computer Science / STEM topics, work in system design for investment banking / trading now – how relevant everything in this writing is for us too. Not just valuable to aviators!  (Nicole Dunlop)
Get out there!  If you are older than 15 then you probably have less than twenty five thousand days remaining to live.  Make the most of these days to work towards achieving your dreams.  Live and enjoy every one of these days, love these days.

Hopefully the information below will help you kick-start your career.
No matter how foolish, it is not the things in life that you do, but the things that you don't do, that you regret (Nancy-Bird Walton)
1. Aviation Pathways
Back to: Aviation Pathways
.. your QF32 blog gave me many good hints and suggestions in how to implement competencies into my profession as a pilot in order to become a highly reliable flight crew member who is capable of managing all risks emerging in daily flight operations.   Yours was the best and most helpful guidance I ever received.  (Benjamin Hari)
There are many pathways to taking up a career in Aviation.      Careers exist for pilots, engineers, technicians, air traffic controllers researchers and journalists.
The best pathway for any person is one that suits the applicants interests, passions, skills,  physical fitness, and financial capability.
Capt Charles E. "Chuck" Yeager was the first person  exceed the speed of sound.  He accomplished this in the Bell X-1 rocket at Edwards AFB on the 14th October 1947.   Today, General Yeager lists these essential attributes in resilient pilots:
Intellectual curiosity regarding every aspect of flying
Calm under pressure
If in trouble, concentrate on FIXING the problem, (not being afraid)
Know your systems so you can fix the problem
Think ahead so you are ready for next steps
Think what can go wrong & fix it before it goes wrong
Aspiring Aviators need the same  Situation Awareness to plan their careers that professional pilots use when flying.
My definition of Situation Awareness is knowing:
Where you were
Where you are, and
Where you will be

Review these aspects of your life at least ever year to ensure that your career plan is  achievable and on track.
2. Constraints
Back to: Aviation Pathways

You must master yourself before you can master any task.   You will face many challenges on your path to happiness and success:
2.1  Mental Constraints
You must remain in perfect mental health to be an effective pilot.    This leading edge industry is flooded with threats, where the survivors live by Neil Armstong's mantra:
"Expect the Unexpected"
Pilots are the most expert managers of risk.    Pilots identify, classify and negotiate risk as part of their daily functions.   The best pilots (risk managers) are those who possess the mental aptitude to appreciate threats, then develop skills and discipline to manage the risks.

Do not panic if you lack these skills.  Most of us start without these skills but fortunately they will develop along with your maturity over time.  Learn by talking to the older and wiser aviators who by definition have the "right stuff" to survive.   You will be surprised how happy the experienced pilots will be to help point you in the right directions, to "give back" and to mentor.
2.1.1  Personal Traits
Back to:  Aviation Pathways | Constraints | Mental constraints
 "there are old pilots and bold pilots, but there are no old bold pilots" (E. Hamilton Lee)
You are unique.    No one shares your identity – it belongs to you.   Your identity comprises: personality, intelligence, experience, skills, habits, sexuality and attractiveness.  Your identity is your point of difference.
Acknowledge your strengths, work to correct your weaknesses.  Be proud of your individuality.  Above all, be a good citizen.  Advertise your strengths because no one else will.   Be the best you can be.
You  will be expected to possess the following personality traits when beginning a career in aviation:
Passion (the Why)   (Why I want to be a pilot),

Morality (honesty, loyalty)  essential ingredients of  your identity and how others perceive you,
Core ethics (values and beliefs),
Determination, drive, aspiration,
Independence of thought,
Thirst for unlimited knowledge, and
Pride, dignity, respect & empathy for others
THE LANCET – 1918:  …..[the successful pilot] possesses resolution, initiative, presence of mind, sense of humour, judgment; is alert, cheerful, optimistic, happy-go-lucky, generally a good fellow, and frequently lacking in imagination. ..
Personal traits you will be expected to acquire throughout your career include:

Maturity
Confidence, courage and persistence tempered by modesty and even vulnerability
Decision analysis
Teamwork, communication and leadership
Chuck Yeager
Capt Charles E. "Chuck" Yeager was the first person  exceed the speed of sound.  He accomplished this in the Bell X-1 rocket at Edwards AFB on the 14th October 1947.
Today, General Yeager lists these essential attributes in resilient pilots:
Intellectual curiosity regarding every aspect of flying.  Know your systems so you can fix the problem
Think ahead so you are always in front of your aircraft
Think what can go wrong & fix it before it goes wrong
Keep calm (not afraid) under pressure
When in trouble, concentrate on FIXING the problem
.. but wait, there's more …
Employers require more from job applicants than just academic results.
Once you have jumped over the academic barriers (raw IQ and education scores), employers then divert more attention to your personal health.  Personal health is a study of your attitudes, beliefs and behaviours.   You will be assessed in the areas of conscientiousness, extraversion, openness and agreeableness and neuroticism.   You will also be assessed about your behaviours such as exercise, drinking and smoking.
Take part in active sports.  Sport improves your brain's motor skills, social skills and confidence.
THE LANCET – 1918:  …. [He]  possess in a very high degree a fund of animal spirits and excessive vitality.
I recommend school military cadet programmes.    The military drills, courses and camps foster and develop skills in discipline, teamwork and leadership – attributes that every professional pilot must possess.
Beware – a pilot's life is one of continual study, learning and development.  Technology is always changing and improving, so you will have to study for your entire life if you choose to fly professionally.
Pilots undertake training courses and frequent check flights.  My employer requires that I be re-certified seven times every year:
4 x simulator check flights (4 hours each)
1 x day of emergency procedures training
1 x Route Check (QF32 was my 2010 route check)
Aviation Medical Certificate
Aviation in itself is not inherently dangerous. But to an even greater degree than the sea, it is terribly unforgiving of any ignorance, carelessness, incapacity or neglect  (anon)
2.1.1.2  Overconfidence
Back to:  Aviation Pathways | Constraints  |  Mental constraints |  Personal Traits
Overconfidence kills.  There are old pilots and there are bold pilots, but there are no old-bold pilots.    Successful aviators are confident but never overconfident.
A skilled pilot without flight discipline is a flying time bomb (Tony Kern)
Confidence arises from knowledge, training and experience.    Knowledge is knowing what you don't know, and every pilot never knows it all.   The minute pilots think that they know everything is the second before they do something really stupid.
The two most dangerous words in aviation "watch this!" (Tony Kern)
Pilots can learn much from rare and severe events.  The wise pilot researches and learns from the rare events, in the process becoming more knowledgeable and able to evaluate risk.  The best way to acquire these skills is to study the aviation books and accident reports.  Knowledgeable and experienced pilots avoid many accidents simply by recognising the risks well in advance and in extreme cases, avoid flight.
Superior pilots are those who use their superior judgments to avoid those situations where they might have to use their superior skills
Overconfidence is a dangerous behaviour that indicates ignorance and arrogance.   Overconfidence leads to unnecessary risk taking, poor decision making and often, death.     Overconfident pilots have an optimistic attitude with a skewed underestimation for the probability of rare events.  These pilots rely on luck to protect them from rare events.  These pilots fail to recognise, rate the importance of, and manage risk,  and might launch into dangerous situations unprepared  to survive the unexpected.
In flying I have learned that carelessness and overconfidence are usually far more dangerous than deliberately accepted risks (Wilbur Wright, September 1900)
Overconfidence after QF32
Friends told me after the QF32 event that I should never have to sit another ground or flight simulator test.  Nothing could be further from the truth.   All skills must be practiced to be maintained or developed.   Should Roger Federer stop practicing his tennis serve after winning at Wimbledon?
I was fortunate that a great team supported me during the QF32 crisis.  One of us is never as smart as all of us.  QF32 was a team win, the team skills won, never just my skills.  So I reflect back on the QF32 incident with immense pride for the teams that helped me, and proud that I kept calm during the event.   I am confident and look forward to commanding flights into the future but never overconfident.
Pilots are only ever as good as their next flight
I still maintain the chronic unease that has protected me throughout my career.   I am always careful to avoid overconfidence.  Pilots are only ever as good as their next flight.  I expect to make errors in future regardless of how successful my last flight was.  I hope I will be able to remain alert to detect and correct my own errors.   I also hope the team recognises and corrects all errors before limits are exceeded.
There is a difference between ego and earned confidence (Paul Keeting, Former Australian Prime Minister)
I welcome every criticism as an opportunity to learn.   I fly to keep my passengers and crews safe – it's never about ego or me.  Every failure is a learning opportunity.  I begin with self-criticism when I debrief every takeoff and landing.  This vulnerability creates a friendly and no-jeopardy atmosphere that invites others' inputs.     I continually work hard and practice like every sportsperson to improve skills,  and in my case to pass my quarterly flight simulator checks.  Theses simulator sessions challenge my mental, physical and emotional skills to their limits.  I have learned that overconfidence is always followed by poor performance.
I fly to keep my passengers and crews safe – it's never about ego or me.
In summary; maintain chronic unease, be proud to be confident, but never overconfident.
2.1.1.3  Personal Skills
Back to:  Aviation Pathways | Constraints  |  Mental constraints |  Personal Traits
Personal skills you will be expected to acquire throughout your career include:
Computer literacy.  The ability to use computerised systems.   The knowledge to understand and recognise when automated systems fail and the ability to take manual control to ensure safe flight.
2.1.2  Passion and True Grit
Back to: Aviation Pathways | Constraints | Mental constraints
Find your passion. Without passion, you don't have energy. Without energy, you have nothing.  (Warren Buffett)
Passion is an emotional catalyst, a turbocharger that resides deep in your fast and instinctive mind.   Passion empowers your values and beliefs.  Passion engenders a focus to pursue thoughts or actions for things you genuinely love and find meaningful.  Passion inhibits the negative and inhibitory processes that dominate most processes in our mind.
Not everyone has a passion, but you can observe it in others.  You can feel your passion, although it's often a gut feeling that cannot be described in words.
Passion is a motivator, not a skill.  Passion by itself does not guarantee success, particularly in the presence of unrealistic expectations.   For people who lack the courage to commit and the stamina & determination to succeed, passion creates false hopes and leads to disappointment.  To succeed in life, passion must be accompanied by execution.
Passion is free – execution is priceless.  Execution is doing things. Execution is creating plans, building time scales, then setting and achieving targets.   Execution to become a pilot requires true grit.
True Grit is the drive we have to persist and push through the good and tough times and to achieve our goals.  True Grit requires interest, practice, purpose, and hope – attributes that develop with age in that order:
Interest is the seed of passion, something you genuinely love and find meaningful.   Interest means having the will to seek challenges and improve yourself on a daily basis.
Practice means committing to at least 10 years of hard and deliberate practice.
Purpose is feeling your work matters to you and the community.
Determination is the ability to keep going even when the going gets tough.
There's a big difference between a pilot and an aviator. One is a technician; the other is an artist in love with flight.  (Capt. Elrey B. Jeppesen)
2.1.3  Maturity
Back to: Aviation Pathways | Constraints | Mental constraints
consider completing your academic training before commencing flying training if you are immature for your age.
Maturity provides the ability to control our thoughts, impulses and emotions.   The mature mind harnesses three brain centres:
Emotions and fear (flight and fight circuitry in the limbic system)
Thoughts, impulses, motivations,  sociability (grey matter, that peaks at puberty)
Wisdom (white matter connections, that sub-peaks at about 25 years of age)
The brain does not mature by getting larger.  The brain matures when the "hyperlinks" in our white matter, correlates the "knowledge" in our grey matter to become more interconnected, and specialised to respond to the environment.
too much knowledge is a dangerous thing
Teenagers take on risky and emotively behaviours because these three brain functions peak at different ages.   The feisty limbic system develops in the first years, the grey matter tops out at puberty, and wisdom doesn't peak until our mid 20s.  These development mismatches explain the teens' propensity for risky and reckless behaviour, free thinking, experimentation and socialisation.
The timing in my graphs for Thoughts, Wisdom and Recklessness vary for every person:
Wisdom (

the green line

) first peaks at about 25 years of age, and slowly increases afterwards.
We are reckless (

the amber line

) and more inclined to do irresponsible acts from the age of puberty until about 25 years of age.
Interestingly, a graph of "aviation accident rates versus age" follows this graph of recklessness up until 65 years of age.
The mismatch is greatest in our formative years from ages 13 to 25.   Tennagers' brains have insufficient wisdom to resolve their abundant knowledge.  Teenage minds are like "cities" of knowledge but without the wisdom to differentiate and select the best outcomes.
We act recklessly when we have insufficient wisdom to control our thoughts and emotions.   In these cases we have trouble controlling impulses or managing risk.  We act irrationally, make wrong decisions and take unwise risks, often to our detriment.
The mismatch in the brain's development is well suited for expansion and evolution of the species, however it is not well suited to disciplined, conservative procedural pursuits.  This timing mismatch explains why our young teenagers' appetite for socialising and risk taking, peaks just after puberty.  Perhaps it explains why some teenagers opt out of reading and relaxation for the higher risks associated with:
social media,
violent computer games,
shoplifting, reckless car driving (car accidents account for 50% of teen deaths),
homicide, suicide (second and third cause of teen deaths), and
drugs, firearms, street gangs and terrorist activities.
To make matters worse, puberty is now starting earlier, boosting hormone responses when the mind is even less mature.
Understanding that maturity grows as recklessness falls in the late teens and early twenties is information we need when planning our careers.  Where does your personality appear on the reckless-maturity graph, and why does it matter for your aviation career?
A mature mind is more capable to identify, rate and work with risk and thus maximise survival.  So consider completing your academic training before commencing flying training if you are immature for your age.   For example, you have only one opportunity to complete your flying training in the air force, so don't fail because of immaturity.  This was my strategy.

I was probably too immature at 17 years of age to attempt and pass the Air Force Direct Entry pilot course.  I started my four years of RAAF Academy academic training when I left school at 17 years of age.  My full time RAAF flying training commenced when I was a more mature 21 year old.
2.2 Pilot Licence Constraints
Back to: Aviation Pathways | Constraints
The world's aviation authorities are currently harmonising with ICAO's range of Pilot Licences.
For example, the new Australian licences include:
Recreational Pilot Licence (RPL):   >= 16 years old, > 25 hrs (20 dual, 5 solo),  Fly within <= 25nm from aerodrome
Private Pilot Licence (PPL):  >= 17 years old. 35 hrs experience
Commercial Pilot Licence (CPL):   >= 18 years old
Multicrew Pilots Licence (MPL)
Airline Transport Pilot Licence (ATPL) >= 21 years old, 1500 hrs (for fixed wing).  Must undertake Multicrew Co-operation course, and flight test.
The airlines will most likely require a CPL as a pre-requisite for employment
2.3 Financial Constraints
Aviation Pathways | Constraints
You will need about USD$150,000 to pay for flying training and flying hours to obtain a Commercial Pilot's licence.   If you cannot finance this training then you must search for less costly entry options via:

Airline Cadet Courses (if available)
Military
2.4  Education Constraints
Back to: Aviation Pathways | Constraints
2.4.1 Research
Back to: Aviation Pathways | Constraints | Education constraints
Recruit pilots must attain the employers' required skill levels.  These requirements are  realistic.  They based upon the skills that you need to become a pilot then have spare mental space and capacity to develop into captains, managers and leaders.
Responsibility.  It is your responsibility to find out licencing and airlines' requirements for employment as a pilot.   Don't ask your parents or friends to research this for you.  It's not their job.   It's your job to do the research for your career.
The best airlines and defence forces generally require the highest levels of practical skills.   These requirements are the first filters that separate those who have the highest motivations and potential to become a pilot from those that don't.
(Photo RDC)
2.4.2  STEM Subjects
Back to: Aviation Pathways | Constraints | Education constraints
In 20 years time 80% of jobs created in Australian will require Science, Technology, Engineering and Mathematics (STEM) literacy.  One in three jobs will be at risk of being replaced by robots.
STEM skills are mandatory for a career in aviation or the military.     These skills also improve your chances of gaining a job in universities, corporates and government organisations.
Your future lies in STEM, even if you plan to study arts subjects at school and university.   Please read "It's time to be a STEM Pirate!" if you are planning an arts career.
2.4.3 School
Back to: Aviation Pathways | Constraints | Education constraints
2.4.3.1 Maths and Physics (essential)
2.4.3.2  Computer Coding (desireable)
2.4.3.3  Stress of Study and School
2.4.3.4  Focus
2.4.3.5  Study Breaks
2.4.3.6  Social Media
2.4.3.7  Confidence
2.4.3.8.1  Memory
2.4.3.8.2 Memory – Practice
2.4.3.8.3 Memory –  Exercise
2.4.3.8.4 Memory –  Summary
2.4.3.9   Aviation Youth Organisations
You must acquire some basic skills at school if your want a career in aviation.
Take charge of your time at school.  Don't waste your school years.  You are responsible for your learning.  You are responsible for your ignorance.   I list a few essential education criteria below.
2.4.3.1  Maths and Physics (essential)
Plan to graduate school with Mathematics and Physics subjects.   Chemistry would also be an asset for an aviation career, but is certainly not a requirement.
It's not hopeless if your academic skills initially fail to meet the grade.  In this case however it's now up to you now more than ever before to alter your values, beliefs and motivations.  You will have to work harder to pass the subject or consider repeating school until your marks improve.
Gaining mathematical skills is one of your most important steps to ensuring a successful and secure career.   Surveys show that people with superior maths skills are creative and become effective contributors and leaders in critical roles.  25%-40% of people with maths skills earned doctorate degrees, compared with just 2% of the entire USA population.
Focus on maths if your maths skills are lacking.   Be seduced by the beauty of maths.   Read and re-read the maths books.    Dream the maths.  Find the beauty in maths. Repeat the maths exercises until you reach perfection.  Enjoy the addictive dopamine high that you feel when you solve a problem.   When you make this commitment, you'll gain a sense of understanding, purpose and meaningfulness for maths, experiencing the joy  of using the equations and processes as tools to solve problems,  just like the screwdrivers and hammers in your toolbox.
Watch videos of Richard Feynman to inspire your love of science.  Richard was a Nobel Prize winning American physicist who had a passion for science and teaching.  He had the ability to explain the complex in simple terms.
What I cannot build, I cannot understand  (Richard Feynman)
Richard's videos will stoke your love and passion for science, technology, engineering and maths (STEM).  Start watching here …
Joy for maths can be as emotionally strong and addictive as passion for music, art and poetry – you just have to commit yourself to study it.  You just have to try.
Without detailed understanding, confidence can not be attained. (Richard Feynman)
No-one can help you with this.  It's up to you.   You can do it!   Prove to everyone else that you can do it!
2.4.3.2    Computer Coding (desireable)
Everyone who works with mechatronic  (engineering, computers & electronics) technologies should have computer coding skills. Coding skills include the fundamentals of computer communications, algorithms, logic and code.   These are the blood vessels, brains and universal languages through which  computers monitor, process and respond to the environment.
Coding skills help us to survive our future in a digital world increasingly dominated by algorithms.   Coding builds critical thinking skills and an appreciation for why technological is designed, how to use it effectively and what to do when the technology fails.
Here are a few of the many ways that you can develop and maintain your coding skills.  :
Complete a computer course at school
Join a STEM club at school or local community (or create one if it does not exist).   The Code Cadets at Canberra Grammar is a great example of how a few students can help each other to achieve great results.
Write "Hello World!" on your iPhone or iPad using Apple's Swift  program.
Build exciting computer controlled sensing and interactive controlled machines in minutes with remarkable Arduino kits.
Learn Java, Visual Basic or  Delphi if you are just interested in software languages.
2.4.3.3   Stress of Study and School
It is normal to be  stressed by the activities of study and school.  The art of learning is a personal journey and starts only when we become aroused.   Stress is a personal state and some scenarios that stress one person will not stress another.
I am a pilot not a psychologist.  However  my small understanding of  how the brain is designed, its functional makeup and its limitations has helped me to study more efficiently and effectively.  Here are some of my thoughts to improve your study techniques and to reduce stress. These methods worked for me – I hope they help you.

Please consult your teachers or perhaps psychologists if  you are unable to manage your stress levels.
2.4.3.4  Focus
Knowledge and expertise are achieved through focussed study and deliberate practice.   The major skill that separates us into our separate track, careers and outcomes is NOT intelligence, it is our study, our deliberate practice.  Mozart, the Beatles, Tiger Woods, Federer, Neil Armstrong are the best examples of experts who have excelled through deliberate practice.    You must commit to the same if you wish to join their ranks.
It's natural to be distracted whilst studying.  However distractions destroy focus and thus the quality of study.
Planned, focussed and prioritised study minimises distractions.  When we focus on a thought or sense, the brain's inhibitory neurons block extraneous senses and thus enable us to narrow our focus even more.   We become "tunnel visioned" when we focus on a thought or sense to the detriment of others.  Feelings, noise and distractions vanish.  Attention is maximised.  Time flies.   (Click here to read more about the neuroscience of inhibitions)
It's easy to experience the effect of tunnelling our senses and avoid distractions.   Work through a Sudoku puzzle the next time you run on an exercise machine. You'll find that focussing on the puzzle has the effect of the suppressing the pain and awareness of running.  The discomfort and fatigue vanish, time quickly passes and you will reach your exercise goal with less mental effort.
To improve your focus and study:
Learn to love the concept of "study".  A pilot's career is a lifetime of continual learning.
Allocate time to study when there are no distractions.
Focus deeply until the topics that you are studying consume your mind.   Don't just give the thought a fleeting interest – focus deeper, going into the detail then deeper again.
Get inside the thought.  What if….   Extend yourself…   Immerse yourself…  Drown in the thoughts.
2.4.3.5  Study Breaks
Plan your study time to include breaks.  Frequent breaks improves focus and mental agility.  Stand up and move every twenty minutes to stretch your muscles, increase blood flow and give your mind time to reset.
The Pomodoro Study Technique  is one example of how to plan breaks into study time:
Decide on the task
Set a "pomodoro" (iPhone/kitchen) timer to n minutes (default 25 mins)
Begin working on the task
Take short (3-5 mins break) after every "pomodori" time interval
Take a long (15-30 min break after every 4 "pomodori" time intervals
2.4.3.6  Social Media
Social media is  distracting,  addictive and counter productive to study
Avoid the distractions of social media during study time.  Turn off the phones, games, eMail and extra computer screens.
Social media is distracting, addictive and counter productive to study.  Social media hooks us with hits of the dopamine hormone that is released every time we accept a new friend-connection.   We get a hit even if we don't know and will never meet the other person.
Social media absorbs time for no work benefit.   We are now spending more time alone on social media that at any other time in history.  Time spent on social media is time lost to listen to our peers, learn, develop our skills and to advance our careers.
Allocate the first hours in your day (or after exercise) to study when your mind is fresh and primed with new neurons for learning.
Spend free time to socialise and network with real peers and friends.
If you must use social media, then spare time for this only during the last hours of the day when your mind is effectively worn out.
2.4.3.7  Confidence
The key to remaining in control is to keep confident physiologically, mentally and emotionally:
Physiologically – via exercise! It clears the mind, helps simplify thoughts and keeps your body agile.
Mentally – make a plan for your studies and keep to it. Socialise, but leave the wild parties until next year!
Emotionally – keep some time to yourself to relax and doing what YOU want to do (electronics, motorbikes, bicycle….)
2.4.3.8.1  Memory
Whilst pilots are very "left brain" factual types, the brain appears to be more suited to remembering artistic and visual patterns that are handled in the "right brain". This means that it is important to give a visual or image context to any data, formulae or facts that you are trying to remember.
The "left brain" processes characters, words and expressions, the "right brain" receives sensor data (images, sounds, taste, smell, touch).   So for example describing an image tends to moves the memory from the right brain to the left brain where the image is more easily "lost". This "Verbal Overshadowing" means that describing an image often has the effect of impairing your otherwise effortless ability to subsequently recognise that object!
Memories are reinforced when accessed by many sources (cross-linking). This means that you ideally want to create notes that link and cross-link/hyperlink to all your other data. Only a few PC programs do this properly, but mind maps can achieve the same though they reside in your right brain and cannot be stored efficiently in PCs.
2.4.3.8.2 Memory – Practice
Memories are also reinforced through repetition.
Sleep!   The sleep processes selectively weaken short term memories and as a result restores plasticity in the mind.   The consequences of this behaviour include:
The best time to study is during the first few hours after waking
Memories are best retained if laid down during multiple sessions, each after a period of sleep
If you do play computer games, then play them at the end of the brain's day when you have the least capability for form new memories.
The extreme form of practice is called "Deliberate Practice" – practicing the things that challenge us repetitively over periods of years and over 10,000 hours. Mozart, Tiger Woods and Michael Federer are proof that Deliberate Practice works. Whilst you won't have time to fit in 10,000 hours, any repetition helps!
Celebrate success.   The dopamine hormone hit we get when we achieving goals rewards the work mentality in our mind.   Success sponsors changes to improve happiness, confidence, courage and thus our future successes.
Make a "To Do" list.  The first item must be "Make my bed".   You will get a dopamine "high" with a sense of pride that you have accomplished the first task of the day.   It reinforces the belief that the little things do matter.   Even if you subsequently have a bad day, you'll have the pleasure of coming home to a comfortable bed!
2.4.3.8.3 Memory –  Exercise
Exercise improves memory, brain performance and reduces stress.
Exercise provides short (30 minute) and long term benefits for memory and performance.  Exercise increases neurotransmitters (glutamate and GABA) that improve synaptic communications and brain functions.    There is even a suggestion that exercise might help people suffering depression.  (NewScientist 27 Feb 2016 p20)
Exercise increases the rate that brain neurons are created in the Dentate Gyrus.   These new neurons increases the brain's plasticity which aids learning and the rationalising of previous previous experiences-stresses.
2.4.3.8.4 Memory –  Summary
Feed your mind.   Study.   Take every opportunity to gain experience in all aspects of your field.
Facts are easier to remember when they are associated with images, photos or patterns with other facts
Build mind maps to replicate and associate and cross-link facts residing in the "left brain" with images in the "right brain" – indeed in this case the two sides of your brain now reinforce each other
Reinforce memory by either associating it with great stress (this is risky!) or by revisiting the memory many times. Lay the memory then strengthen the bond by revising (studying) many times at regular and increasing intervals.
2.4.3.9   Aviation Youth Organisations
Consider joining a youth organisation to pursue your aviation interests.  These organisations are staffed by volunteers who often have considerable aviation experience.  The organisations have no political, racial or religious connections and exist only to encourage interests in aviation as a career or as a hobby.

For example, the Australian Air League is an excellent national organisation that caters for boys and girls aged from 8 years of age who have an interest in aviation.  The Australian Air League develops children's physical and mental abilities, ingenuity, resourcefulness and good citizenship.  I was proud to be the Reviewing Officer at the Ceremonial Parade for the Australian Air League NSW Group in Tumbalong Park Sydney, in May 2012.
2.4.4 Age
Back to: Aviation Pathways | Constraints | Education constraints
You are never too young to learn to fly.  Please read my article: Motivating our youngest generation
Do not despair if you are an older university graduate or if you have extensive industry experience and now wish to become a pilot .  Your study and efforts have not been in vain, but be patient.
Airlines first employ you to fill the role of a pilot, however your university degree and experience gives you additional skills that will potentially differentiate you from the younger inexperienced pilot recruits.

Airlines require pilots in senior technical and management positions to have additional skills, so should be keen to employ graduates from Business, Engineering and Test Pilot schools.
2.5  Physical Constraints
Back to: Aviation Pathways | Constraints
All pilots must possess a current medical certificate to be able to fly.
The medical requirements vary with the pilot's age and type of licence. You will need very good hearing, correctable eyesight and above average spatial and hand-eye coordination.
If in doubt, visit an aviation certified medical examiner before you commit to any training to determine your medical ability to fly.
You must know the many personal, physical and educational requirements to join the military if this is your preferred pathway.  The military recruit relatively  few pilots so it is not surprising that they employ only the most healthy and physically capable candidates.
THE LANCET – 1918:  The successful aviator has always the attributes of a sportsman. As a schoolboy he takes part in all forms of athletics and usually played for the school in one game at least. After leaving school he still keeps it up, and probably goes in for other kinds of sport-hunting, shooting, fishing, rowing, golfing, motoring etc. 
You must remain physically fit for your entire career.   If you partake in risky activities such as road cycling, rock climbing or toboggan racing then ensure that you have a backup career available in the event that you become injured and unable to retain a medical aviation certificate.

THE LANCET – 1918:  We found that the best type of pilot was seldom drawn from a sedentary occupation, that those who had lived a sheltered life were not so good as those who had roughed it. …. 
2.6  Gender (Sex)
"My God, I'm not going to fly in that. The pilot's a woman!"
Back to: Aviation Pathways | Constraints
There are no constraints separating men from women to take up an aviation career.  Pilots are dealt the same emergencies from engines, airframes, weather and passengers regardless of gender.  And there is no discrimination against female aviators in progressive countries and companies.
The days have long past when a man said to Nancy-Bird Walton:  "My God, I'm not going to fly in that. The pilot's a woman!"
Globally only about 3% of pilots are women – that's about 4,000 out of 130,000 pilots worldwide:
British Airways employs 3,500 pilots, but only 200 are female
Less than 100 of the 2,500 Qantas pilots are female
Less women than men apply for careers in aviation, perhaps because:
85% of applicants had dreamed of being a pilot since their earliest childhood years.  Perhaps less women than men commit to flying in these early and formative years whilst at home and school,

Fewer female than male role models in aviation,
The aviation industry's lack of support for women who plan to raise children.
Please read my tribute to Nancy-Bird Walton
Regardless of gender, all applicants must possess a passion for aviation, an aptitude for flight and the dedication to commit to a life of learning and development.
3.  Training Options
Back to: Aviation Pathways
Your decision of how to train to fly will be influenced by the status of the industry, the jobs available and your resources to learn to fly.
You will need an Airline Transport Pilot Licence (ATPL) to captain a commercial airliner.  You will need to pass about 14 exams and acquire 1,500 hours flying experience.   Here are some of the many pathways that you can take to achieve these goals.
 3.1  Initial Career Assessment
I recommend a few hours of flying instruction or private flying (with a friend) as part of your initial research before you commit to a career in aviation. The theory of maths, science, Bernoulli's theorem, and the fun and thrills of  of high speed flight are different to the physical realities of oil soaked engines, pre-flighting engines on cold winter mornings, and the first time when all senses overload during practice emergencies.
3.2  Private Flying
Private flying lessons give you the flexibility to select  the types of skills that you need for your desired career.
Private flying is an excellent method to gain broad skills in diverse areas though often these operations are conducted with unknown  governance, culture, training and standards.
If learning to fly privately, then you should get a twin engine endorsement as soon as possible during your training. Your navigation exercises can then be flown in twin instead of single engine aircraft.  You will therefore acquire multiple engine experience as quickly as possible.  This plan saves money for your overall training and increases your chances of employment.
If you wish to join the military, then limit the amount of private flying first, as the military generally want to take you before you have acquired "other" skills.
3.3  Cadet Program
Cadet Programs are an excellent way to learn to fly for minimal costs, though you might have to repay training costs if you leave before a bonding period expires.
Cadet Programs may have a pre-requisite of  no flying experience, or up to 240 hours (Multi-crew Pilot Licence) or 1,500 hours (FAA)  flying hours experience.
Cadet Programs offer advantages for pilots who are looking for a life and career  in the airlines.   The airlines provide the structured working environments, atmosphere and culture where the pilots learn from osmosis the principles of human factors, responsibility, leadership, safety, teamwork and personal development.  However airline cadets often miss out on flying in diverse environments and experiencing the "challenging events" that give confidence, case harden the skills and bullet proofs the character.
To view these thoughts from another perspective, Friedrich Nietzsche's famous quotation:
"That which does not kill us makes us stronger"
infers that pilots who develop their skills from diverse and challenging flying backgrounds will probably become more resilient than those who experience a stress-free and risk free passage.    (Malcolm Gladwell's book "David and Goliath" extends these thoughts.)
Cadet programs can  very expensive.  Lufthansa for example trains its pilot cadets over a period of 29 to 33 months at its Airline Training Centre in Phoenix, Arizona.  The course costs 70,000 Euros US$ 140,000) that is paid back in installments after commencing employment.
Click here to see a list of Pilot Cadet Programs
Cadet programs offer no resilience for your careers in case you become unfit to fly.   Your training program is only focussed towards flying and your pilot's licence will be of no help later if you lose the ability to fly due to physical or mental problems.
3.4  Technical College Diploma
Technical colleges provide short regimented aviation courses.  Students graduate with a "Diploma in Aviation" and the basic Commercial Pilot's Licence (CPL).  If you want to be a professional pilot, then expect to outlay additional costs after this course to get twin engine and other experience.
3.5 University Degree
I recommend that pilots gain tertiary skills.  You will have the most resilient career if you combine your flying with a university course in another field.
Acquiring knowledge will help you get a job.  Universities impart knowledge. Knowledge begets confidence.  Knowledge is power.   Knowledge will help you adapt.  Knowledge will help you survive.  Ideally your university course will complement flying.
Universities teach students how to think effectively and be better leaders.  Clear thinkers make better decisions.  Making better decisions builds self-confidence.  Self confidence helps us to make the tough and courageous decisions.
3.5.1  Bachelor and Master's Degrees
University courses in Science, Aerospace and Engineering provide the most skills to bracket any aviation career.    Many of my pilot friends have degrees in law, psychology, engineering, computing and science.  These courses also bullet-proof your options in case you wish to pursue careers in other industries.
"Aviation Studies" courses normally include physical flying lessons.   These course also include a broad range of aviation subjects (safety, leadership, law,  crew resource management, performance, aerodynamics …. ) that cover the breadth of knowledge that is needed to gain entry to any airline sector.
You will probably graduate from these Aviation Studies courses with a Bachelor's degree and the subjects completed for an ATPL pilot's licence.   These qualifications are ideal if you want to join an airline.   These narrower and focussed qualifications have less application though in other industries.
Although the order in which you train is not important, I think that it's best to undertake university and college courses;
straight after school (it's easier to study when young and used to studying than to study when you are older and have not studied for many years),
during a downturn in the industry (when there is less employment), and
when working regular flying rosters (studying in your hotel room!)
3.5.2  Doctorate Degrees
Most pilots do not need doctorate qualifications.   Only undertake a doctorate degree if you have considered the value proposition  (the loss of time time and poor financial return for a significant investment) and accept the risks of delayed skill development and employment.
Most doctoral graduates will never work in academia.  About 200,000 doctoral graduates, and only 30,000 tenured academic positions are available every year (2015).  This equates to an annual deficit of 170,000 academic positions.
THE LANCET – 1918:  The [successful] fighting scout is usually the enthusiastic youngster, keen on flying, full of what one might call the "joy of life," possessing an average intelligence, but knowing little or nothing of the details of his machine or engine; he has little or no imagination, no sense of responsibility, keen sense of humour, able to think and act quickly, and endowed to a high degree with the aforementioned quality, "hands." He very seldom takes his work seriously, but looks upon "strafing the lines" as a great game.
THE LANCET – 1918:  ….  The authors, however, desire to express their definite conviction that the less the fighting scout pilot knows about his machine from a mechanical point of view the better.
 3.6  Life After Training
Life is not fair.  You will fail often, especially when faced with Donald Rumsfeld's "unknown unknowns" and Neil Armstrong's "unexpected events".
You must plan to be resilient if you become unable to fly.
Always plan to augment your skill sets after joining an airline.

Give yourself the skills to continue in another profession.  You will be "bullet proof and not gun shy" only when you develop your confidence to face the vicissitudes of life and to continue when the unthinkable happens:
never give up,
face down your fears,
step up when the times are toughest,
do the hard things and
be all that you can be.
It's at this point that you will have the confidence to take more risks and to advance your career:
4.  Employment Options
Back to: Aviation Pathways
Your focus after gaining your initial licences is to improve your employment prospects.   Use your time constructively:
Improve your knowledge.
Grab every opportunity to fly.
Use spare time to study and gain more advanced licences.
I suggest that it is not in your best interests to spend time in other aviation trades  (cabin attendant, ground ops or customer service) at the expense of gaining flying experience.
4.1  Military
"Uncle Sam will pay to teach you, if you're willing to bleed a little!"
Do NOT join the Military (Army, Navy, Air Force, Marines) to learn to fly for no charge, for this most remarkable flying comes at a great lifestyle cost.
4.1.1  The Military is a lifestyle
The military job is a way of life:  discipline, military history, physical and mental stress, constant study, constant development then deployments when and to where the military decides.   You will be a military officer first, and a pilot second.
You must be confident to undertake a military flying career
4.1.2  Personal Qualities in the Military
You must exhibit (or have the potential to develop) the following personal skills to undertake a career as an officer pilot in the military:
Physical fitness.   Flying fighters requires peak physical fitness.  You will sweat, puff, pant, strain your neck and be fatigued at the end of a 30 minute combat manoeuvres flight.
Confidence and the ability to handle failure.  You cannot expects others to have confidence in you if you do not believe in yourself.
Initiative
Leadership.   You will be asked to give examples where you exhibited leadership in challenging situations.   You will be tested for Leadership, situation awareness and problem solving skills.
Teamwork
Military life is hard!    Be prepared to change your thinking, expectations and actions to suit the military doctrine.  These values and beliefs were best described by Admiral William H. McRaven:
Start every day with a task completed (even if it is just making your bed!)
Find a mentor to help you through life
Respect everyone
Understand and take risks
Step up when others falter
Face down aggression and bullies
Support others
Know that life is not fair and that you will fail often, so
Never, Ever give up
Chuck Yeager on Twitter:   (Chuck was the first pilot to exceed the speed of sound (Mach 1))
Reader asks Chuck:   "Isn't flying expensive to learn for a profession?"
Chuck Yeager answers:   "Uncle Sam will pay to teach you, if you're willing to bleed a little!"
4.1.3  Academic Skills and the Military
Your military flying training only starts when you acquire the foundation skills.
You must have skills in  the Science, Technology, Engineering and Maths (STEM) subjects to be eligible for a career as a military pilot.   The military uses only the most advanced and leading edge technologies.  So you must understand how high technology is designed and constructed so that you can operate it to its full potential.   Arts skills are valued lower than STEM skills.
If your STEM skills are lacking, then act to improve them.   Read and practice maths and physics. When you apply sufficient effort, your skills will improve and you will start to enjoy these subjects as a result.
4.1.4   Flying Training in the Military
Military flight training will take from 12 to 18 months months,.   At the end of your training, you will graduate and be given your "Wings".    During flight training, you are only ever about three flights from being scrubbed off the course.  So it's imperative you give yourself the best chance to pass the course:
Have no distractions.   Finish or postpone any activities that will distract you from your studies.
Ideally be single.  If you are married or have a partner then prepare them for the shock that will occur when you start your training.   In the worst case, tell your partner that you must withdraw from social activities that divert your time from study.   If your partner supports your quest to become a military pilot, then they will understand, and give you the personal freedom that you you need to undertake the course.
Be fit when you start and remain fit during the course.   Exercise clears the mind and supports neurogenesis.
After you graduation with your Wings, you will be posted to a flying squadron where you will first undertake  conversion course to fly their aircraft.   That conversion course could take another six months.
You will be asked to declare for your preferred Squadron after completing pilots course.   You will need to select from fighters, transport or helicopters.  Only the best pilots are sent to fighters, because they must be competent in single pilot roles in high stress situations.   Nevertheless, many pilots who top their courses opt to fly aircraft with crews and passengers because that is their higher preference.
4.1.5  Military Return of Service
A military career is a long career.
The RAAF invested about 1.5 million dollars in the 1970s for my RAAF Academy and pilot training courses, so I had to spend at least eleven years in the force.
Today the costs exceed five million dollars and the bonding period has increased to about 14 years!
THE LANCET – 1918:  ….  Flying Overseas:  There is certainly a cumulative strain on the pilot, greater than any other form of aviation. Duties overseas consist of: (1) artillery observation; (2) offensive and defensive patrols; (3) trench strafing; (4) night bombing; (5) day bombing ; (6) long reconnaissance and photography.  
THE LANCET – 1918:  ….  One of the greatest strains on the pilot's nerves is when he sees one of his friends go down in flames, or, after arriving at the mess, he learns that so-and-so is missing. When this occurs with monotonous regularity it is very hard for the pilot to maintain his mental equilibrium. There is no branch of the service where losses are more keenly felt.
4.1.6  Civil aviation for ex military aviators
Military pilots make excellent commercial aviation pilots:
The flying skills and experience attained in the armed forces exceed the minimum standards of commercial airlines.  When recruiting new pilots, airlines usually double the hours of military flying experience when equating them to civil pilot flying experience.  The military pilot's deep knowledge about the theory of flight, airframes, aerodynamics, performance and propulsion form an excellent foundation for any civil aviation career.  You should have sufficient experience for employment in any commercial airline if you leave after completing your "return years of service" (to repay the military for their costs to train you).

Military pilots aspire to perfection knowing that it is an illusion and that they will never achieve it.  The airspeeds, altitudes and approaches that they fly might be close to the target, but close is never good enough and they know that they must always improve their skills and expand their limits.

Military pilots understand leadership, teamwork, comradeship and trust.  Military courses are designed for teams, not individuals.  Obstacle courses are designed to defeat individuals – you will only survive if you help others and in turn others help you.   The best military leaders exhibit the highest standards in these areas, replacing attitudes of narcissism and conceit with humility and vulnerability.
Failure is never an option for the best military aviators.     This attitude is exemplified by navy pilots who must return from a mission with little fuel and perhaps a damaged aircraft to land on a dark very short and unlit deck on an aircraft carrier  that is pitching on rough seas in stormy weather.    These skills do not go unnoticed.  Jim Hansen recounts that six of the seven Apollo commanders that landed on the moon were former navy aviators.
4.1.7  Military bonds are forever
You don't cross a finish line alone in the military,  you always cross it with someone else
The bonds that you make with your course colleagues will never be broken. You will never forget your shared experiences.
Your colleagues become your extended family.  You remember their families, their girlfriends, their strengths, their weaknesses, how you helped them and how they assisted you in return.
You don't cross a finish line alone in the military,  you always cross it with someone else.  You train together, you survive together.   I remember the weekly physical test at the RAAF Academy.  We failed the test if we were unable to run a few kilometers within a specific time.   I was a good long distance runner.  My friend Gerry Carter was a great short distance runner.  So Gerry and I used to pair up and run the test together, he pulling me along through the middle sections and I spurring him on to the end.  The instructors saw our alliance and feigned not liking it.  Standing at the finish line they yelled out, "faster de Crespigny!  Don't slow for Carter";  but I never did speed up.  Gerry and I raced as a team, we finished as a team.
Friendships and respect forged in the military last forever.  For example, today I met Professor Joe Lynch during my flight from Dubai to London (19th April 2015) .  Joe was one of the 44 other cadets that joined the RAAF Academy with me in 1975.   I went my way after graduation and Joe went his way to fly Chinook helicopters.   I had only seen Joe a handful of times since we graduated pilots' course in 1979, but it didn't matter.  It was as though I had seen Joe just yesterday.   The memories and emotions came back when  I hugged Joe.   Nothing else needed to be said.
4.2  International Airlines
The best international airlines only recruit well trained and experienced pilots.
The airlines do not teach you to fly, they simply show you their standard operating procedures and convert you to their aircraft.
The aircraft, pay and conditions are superior, but you will be employed to ultimately be a captain and the highest flying and leadership standards are expected. You will need about 1,500 / 3,000  military/civil hours respectively.
The international airlines generally employ pilots with jet experience from the military, turboprop and jet airlines.
Emirates is looking for almost an unlimited number of experienced jet pilots.   (Click here – November 2015)
4.3  Regional, Domestic and Low Cost (budget) Airlines
The regional, domestic and low cost (budget) airlines live in the middle of the pilot "food chain".   These airlines operate with razor thin margins.
The low cost and budget airlines generally operate over short routes of less than three hours to hopefully fly more sectors than the value added airlines.  All costs are trimmed to provide the legal minimum requirements.
The value added domestic airlines face significant competition.  They might fly longer routes than the low cost airlines, but the increased choices of airlines and the competition puts an upper cap on air fares.
Domestic airlines are very different to long haul international airlines.  The average sector length of the short haul airlines is between 2.5 to 3 hours, compared to 7-8 hours for the long haul operators.   You will fly more sectors, have better hands-on flying skill,  return to your home each night and be less affected by jet lag than your long haul brethren.
The low cost airlines generally have only a few aircraft types.   The pay is less, with more limiting career promotions and less exotic international travel than those offered by the long haul airlines.
You might be able to join these airlines with the minimum of 240 flying hours (Multicrew Pilot Licence) or 1,500 hours (FAA).
Be very careful joining an low cost airline with less than 300 hours of flying experience.  Safety is reduced when airlines put inexperienced of under-confident pilots into the First Officer's seat.  You will be flying with only one other pilot. You must  learn the skills of your trade much faster and with fewer safety nets than apprentice pilots in the international airlines.
Its not just your passengers that are put at risk, it's your career if the unthinkable happens and your performance is questioned.
Be prepared to pay for your training costs if you leave the low cost airline before your bonding period is repaid.
The need for regional flying is growing.   For the regional airlines in Australia from 1985 – 2008:   (RAAA conference  Sep11)
The number of regional airports has reduced down from 268 to 138
The number of airlines has reduced from 53 down to 27
BUT the number of passengers has increased from 1 million up to 6 million
4.4  Air Freight Companies
The passenger aircraft industry offers a more reliable future for pilots than the air freight industry.
190 specialist air freight companies boomed over the last twenty years at times when jet fuel was cheap and the rapid road and sea freight alternatives were underdeveloped, slow and provided poor customer service.
Times have now changed.  The air freight industry that once boomed is now holding steady or even in a gentle decline whilst the ground freight companies provide cost effective and acceptable competition. Only 0.5% (43m of 8.8b tonnes) of sea and air freight was carried in the air in 2012.    50% of this air freight is carried in the cargo holds of passenger aircraft.   The remaining 50% is carried by 1,645 dedicated air freighters, two thirds of which are converted passenger aircraft.    The belly based cargo market has declined 30% over the past four years due to effective competition from alternative carriers.    (RAeS AeroSpace, Oct 2014 p10)
Looking out twenty years to 2034, the market for air freighter pilots is uncertain, particularly whilst jet fuel prices remain high and surface based competitors become more efficient.  Even the internet delivers many goods electronically that were once packaged and air freighted. Nevertheless aircraft manufacturers remain optimistic and forecast the freight industry will continue to grow at 3.2% per annum. They forecast the number of dedicated freighter aircraft will increase by 2,670 (870 new and 1,800 converted passenger aircraft).    (RAeS AeroSpace, Oct 2014 p10)
I forecast that short range air freight will be managed via:
increasing excess capacity of cargo holds of passenger aircraft,
a steady or even declining number of dedicated air freighters, and
increasing efficient road, rail and sea freight alternatives.
I forecast that long range air freight will be managed via:
 increasing excess capacity of cargo holds of international passenger aircraft,
a steady number of dedicated air freighters.   I also forecast that in 30 years we will see autonomous air freighters (with remotely pilot override) that will transit the Atlantic, Pacific and Indian oceans, and
increasing efficient sea freight alternatives.
4.5  Tourist Industry / Outback / Aerial Agriculture
4.5.1 Tourist Industry
I suggest that for other than retired pilots, that the tourist industry be planned as a brief "means to an end" to acquire flying hours on your journey to a jet airline.
Flying in the tourist  industry is one of the best ways to build up your hours prior to joining an airline though the repetitive nature of the flying limits your full potential.  1,000 hours of experience repeatedly flying the same 1 hour sector produces less learning experiences than 300 flights with random routes and destinations.
4.5.2 Outback Flying
"That which does not kill us makes us stronger"  (Friedrich Nietzsche)
Ryan Bullock asks:  "I currently have an option to fly in the Northern Territory (NT) of Australia for a year and also for a cadet-ship with a regional airline.   Which should I pick".
Ryan, I would accept the offer to fly in the NT then take the cadet-ship with the regional.  The exciting outback experience will provide a great foundation for any commercial airline position.   I also think that early in a pilot's career, that time is best spent laying a broad range of core skills and experience than to just acquire seniority in an airline.
I recommend all pilots early their career take up opportunities to fly in the sparsely populated areas the world (Australia, Alaska, Canada, New Guinea, South America ….).
Imagine this (brief) sojourn similar to a medical internship – the pay and working conditions might be poor, but you will gain immeasurable experience, confidence and resilience whilst also having fun learning the basic practicalities of flight, navigation and performance, all without the distractions that come with congested skies and over-controlling management.
Outback pilots quickly acquire the maturity and many of the basis hands-on flight skills necessary to start a flying career.   You will gain responsible and be able to  appreciate and manage the diverse threats and stresses such as navigation, weather, cold/hot temperatures, poor aircraft performance, aircraft mechanics, poor airfields and sometimes troublesome passengers.
Many of our most valuable life-lessons are learned from challenging experiences, and those who have seen more will be more armor-plated to anticipate and manage future risks.   You will probably inadvertently scare yourself a few times and learn to appreciate the benefit of not skimping on your fuel orders and weight and balance limitations.
You will also probably come to appreciate the technical complexities and risks of low flying.  More importantly thought, you will start to appreciate your skills and limitations and become aware of when it is prudent to stand with the birds on the ground rather than to launch into the unknown and into potentially dangerous weather conditions.
4.5.3 Aerial agriculture (Crop Dusting)
I only recommend Crop Dusting and other low level high performance flying jobs for the case hardened, mature and experienced pilots. Except for military and helicopter flight, it's almost always safer to he higher than lower in the air.
Aerial agriculture has the highest accident rate (per hour) of registered aircraft.

Crop dusting pilots work in an almost exclusive environment of severe risks and stresses.  Threats include limited performance, low-level flying, high (fatiguing) workloads, dust and obstacles such as  power lines and uneven terrain.
Save the Crop Dusting career until you have thousands of hours experience and the maturity to know your aircraft's and your body's limitations and the confidence to say "NO, I'm not flying today!". Your friends and family will thank you for these decisions!
5  Employment Tests & Interviews
Back to: Aviation Pathways
The interview is not about you,  what you know or your qualifications.  It's about the company, how you will fit into its teams and culture, influence others and  finally deliver results.
It's not about you – it's about them!
Airlines hire future junior pilots with the intention that they will become captains.   Airlines worry about hiring the wrong person because this is one of the most costly mistakes that they can make.   It's expensive in terms of money, time, market momentum, credibility and emotional energy.  They also worry about the risk to their business and reputation if they entrust their brand to someone who fails to deliver or damages relationships through incompetence or unethical behavior.
You must convince the interviewer that you understand the company and why you are a necessary part of their future.
Tony Hughes writes:
It's not about you – it's about them! That's strange, you're thinking, they've asked me in for an interview and they're asking questions about me – of course it's about me! They want to compare me with others. No, they want to know what you can do for them compared with what others can do for them. There is a very important distinction – what can you do for them? Not, tell us everything about you.
5.1  Preparing for your Interviews
5.1.1  Housekeeping
Ensure your Curriculum Vitae is tailored for the specific job and up to date.  Keep the summary short – no longer than two pages.   A LinkedIn page does not replace a resume.  Focus on your characteristics and capabilities more than your aspirations.  For example  Leadership (responsibility, authority, confidence, courage, vision, organisation, communication).  Confirm your referees are able to support your applications.
Clean-up / shutdown your social media.  Shutdown inappropriate social media channels.  Remove any embarrassing photos or text.  Be prepared to log on and show your social media pages to your employer
5.1.2  Research
You must prepare and do massive research before your interview:
Company structure
Aircraft types, route structures
Company history, share price over past 10 years
Knowledge about the industry/sector – 3 major current issues
What are one/two favorite things about the company – why do you want this job?
5.1.3  Reading
Fledgling pilots should read:
QF32.  I designed QF32 to be a motivator for and assistance to anyone seeking an aviation career.
Future jet pilots should read:
"Handling the Big Jets" by D.P. Davies.  Although written in the 1970's this book contains timeless gems for heavy commercial jet operations.
5.1.4  Tests
You will probably be required to complete psychometric and aptitude testing.
Psychometric tests assess specific personality types, values and beliefs as a measure of motivation and suitability for a specific job.
Aptitude tests measure the ability to perform specific tasks in varying situations and stress.
These tests will include mandatory proficiency for:
These tests may include:
Motor control – basic hand/foot/visual motor coordination and tracking skills.
Maths and physics
Memory –  short and long term memory
Multi-tasking – perform multiple tasks accurately and under pressure
Spatial Perception and Orientation
5.2  Interviews
You will be interviewed by a panel of specialists.   Have examples of your situations and experiences that show your ability to:
solve problems
show commitment, initiative, leadership
work with difficult people
manage upwards when  required
Demeanor
Be confident, engaging and engaged.
Be happy to enter a conversations but don't talk or waffle on about yourself too much.  Remember, it's not about you!   Show them subconsciously that you understand their problems, what they need and how you can deliver.
You don't need to fill in quiet space
Be prepared for the impossible or tricky questions.  Don't be afraid to say "I don't know but I'll find out"
You have to want to work for them as much as they want you.  So consider asking questions about the:
culture
communications, all voices heard/valued
personal development,
teams versus the individual,
promotion
philanthropy
Third party companies provide courses to help you improve your interview and test results:
6. Career  Development
Back to: Aviation Pathways
Summary
Aviation has irrevocably changed with the arrival of low value add airlines in our flat globalized world.
Your rate of promotion in an airline depends upon the health of the aviation industry, your company and your skill sets.
Pilots are more personally responsible now for their personal and career development than at any time in the past.
A pilot's life is a never ending journey of  learning and discovery.   Your skills must constantly develop to keep in pace with the industry.   The skills that helped you get your airline job won't keep you there in this fast morphing world.
You are the master of your destiny.  There are no fairy godmothers who will mentor you and guide you through your career.    Who you become is up to you.

You are responsible (not the company) to ensure that your skill sets develop and diversifies to remain relevant.   Respect and resilience comes from having the latest technical skills to survive at the edge of chaos and to lead others.    It you are not aiming to be in front, then you are falling behind.
Effort is ultimately rewarded.   Great things happen when preparation meets opportunity.
6.1  Aviation Industry (Recruiting Cycles)
Back to: Aviation Pathways | Career Development
The plot of the aviation industry health exhibits two components:
The aviation industry has doubled in size every fifteen years since the 1970s.   This growth rate is forecast to continue through to at least about 1940.  (It is forecast to triple from 2011 to 2050)     (Aviation Industry)
The aviation industry also exhibits growth cycles having a 10 to 15 year period.
Take time to understand these trends.  They will help you decide whether to seek airline employment (during the 10-15 year upside) or complete full time education or military service (during the 10-15  year downside) in preparation for the next upside.
2016 marks the beginning of the next major upswing for pilot recruiting in the airlines.
The current positive cycle should persist for at least ten years (till at least 2026).
The airlines that have delayed recruiting for the past ten years, now must recruit new pilots to replace the older pilots that retire, and to crew their expanding fleets.
Every quality airline I know (British, Emirates, Qantas …) is recruiting pilots.
Keep up to date with the changing recruiting opportunities and minimum experience requirements.
Salaries increase (and required experience decreases) when the supply of suitable pilots is less than the demand.
Success is commensurate with experience.
I think pilot-less aircraft will not have an effect on recruiting until after 2035
Seize the day!
6.2  Health – Companies
Back to: Aviation Pathways | Career Development
Choose your employer carefully.  Your promotion will be limited by the depth and growth of your employer. Promotion will be rapid in an expanding company.
Airlines' profitability fluctuates with the economy and the price of jet fuel.
In 2012 the world's airlines were expected to return a $3 billion profit in 2012 on $631 billion in revenues. That's a razor-thin 0.5 per cent margin." (IATA Jul12)   One analyst put it succinctly:
"the yields are asymptoting to zero!"
This low margin means that the airlines now have little profit remaining after paying dividends to stakeholders to allocate for mentoring pilots and their careers.
Three examples will suffice:
I joined Qantas as a Second Officer in 1986.  I then spent 18 months as a Second Officer before taking up the First Officer Promotions course.   Today , that same transition (S/O to F/O) is taking up to fourteen years.    Transition from F/O to Captain is taking another 5 years.
Promotion will be rapid in Lion Air.   Lion Air commenced operations in Indonesia in early 2000 and now has a combined fleet of over 700 aircraft.   Lion Air ordered 234 new aircraft in 2013!    There should be a rapid transition from F/O to Captain.
Promotion will be rapid in the Middle Eastern airlines for experienced First Officers and Captains.   These airlines require pilots who have in excess of 3,000 hours of jet experience.
6.3  Pilot Skill Sets
Back to: Aviation Pathways | Career Development
THE LANCET – 1918: The skilful pilot appears to anticipate" bumps."  He is invariably a graceful flyer, never unconsciously throws an undue strain on the machine, just as a good riding man will never make a horse's mouth bleed.
Do what you love and love what you do.
 Get used to the concept that your (pilot's) life will be one of continual practice, learning, development and acquisition of new skills.
Your employer will expect you to turn up with the right attitude, present to your passengers and "make their day"..  You can't fake these skills – they are driven by your passions, values and beliefs.  So  understand what you love, then love what you do.  When these actions come from the heart, then they will be honest, contagious, effortless and people will follow you.
Be skilled up in advance of your next promotion opportunity.   Pass your ATPL subject exams at the earliest opportunity.

Knowledge, training and experience gives you confidence and courage to face the risks, make the best decisions and hopefully in the worst case survive the events that you had never trained for nor expected.  Your career will stagnate when your skills stagnate.  

You must never stop learning for you will never know everything about aviation.  
 Airline initial and recurrent training is now conducted in simulators.   This Airbus video shows how pilots now use many simulation tools on their path to a front seat in the big jets.
Find a senior pilot who will mentor you throughout your career.
Here is your checklist to remain resilient as a pilot in aviation:
Be ruthlessly and unendingly curious.  Become addicted to and embrace change and learning.  Resist the status quo.   Become immune to the feeling of underconfidence when you are pushed outside your comfort zone.
Maintain your passion for and literacy in the fields of science and technology:  what you use, how it works, and why it's necessary.
Embrace future trends, always looking for opportunities to evolve.
Read and study and cross reference books, magazines, web sites and trade press.
Learn from every crash and near miss.
Socialise with the other pilots when away from home base – don't retreat to your room to play computer games.
Join the Royal Aeronautical Society and the Guild of Air Pilots and Navigators and other aviation organisations.  (View this video that details why you should join the RAeS)
Develop your computer skills.   Learn to code in any computer language as these skills will give you the confidence to be in command and critical of the automated systems that you will have to work with, that will at some time fail.
Don't use paper.  Build then continually update your personal Knowledge Management (KM) system which is your repository and cross-reference for your aviation knowledge.  (100% of my aviation knowledge is stored in a structured PC based knowledge management tool that is hyper-linked, indexed and constantly updated.)  Click here for more information about KM systems.
Be confident flying your aircraft,  Be unafraid of your aircraft.  Wear it like a glove.
Maintain your hands-on flying skills!  Don't fall into the trap of believing that hands-on flying skills are not needed in new highly automated aircraft, for your job is to guarantee the safety of your passengers whether your aircraft is stalled, inverted, spinning or on fire (QF32 p 102).  (Proof:  Of the 4269 fatalities from commercial jets between 2003-2012, 39% (1648)  were due to Loss of Control In-flight and 18% (765) during landing! (Boeing Summary August 2013))
6.4 When to Leave
Back to: Aviation Pathways | Career Development
It's your life, you have limited days left.  None can be repeated.  Take charge of your days.  Don't waste them!
It's difficult to know when it's the right time to leave one employer for another.   Imagine the situation where you have a great job, friends and lifestyle with your current employer.  The next job offers better conditions, but there are associated risks when you change jobs and it's very hard to balance up all the factors and decide if and when it's best to pull up your roots and commit to a new employer.
Here are my thoughts to consider when deciding if it's time to leave your employer:
Leave when you are no longer challenged.
Leave when you are no longer learning, broadening your experiences or developing professionally.
Leave when you no longer respect your leader.
Leave if you do not share the values, ethics, cultures and beliefs of the company.
Leave it the company does not appreciate your input.
The ultimate test is:  What would you do if you found out today that you had an incurable disease and that you had only a few years left left to live?  Would you stay with your friends in your current mediocre job or move to another job?   Let the answer to this question be your ultimate guide.

It's your life, you have limited days left.  None can be repeated.  Take charge of your days.  Don't waste them!
7.   Alternate Career
Security is an illusion
Alternate Careers in aerospace
Back to: Aviation Pathways
Security is a swear word!
Are you are prepared for the unexpected?  The world, your environment and the companies you work for are going to change:
you may wind up in the same company, you will probably not,
you may wind up in the same career, you will probably not,
you hopefully will wind up with the spouse you're currently married to,  you may not.
Every pilot should have their plan for an alternate (secondary) career in the event that their primary career is halted due to ill health, airline retrenchments or a bad experience.   Ensure your alternate plan is simple and achievable because in the words of Mike Tyson: "Everyone has a plan until they are punched in the face."
Four examples suffice:
In 1976, my 18 year old friend found that his aviation medical was permanently cancelled after he was knocked unconscious for the second time whilst playing football.  He was subsequently forced to leave the RAAF Academy!
I started my computer company shortly after joining my Airline as I calculated that I had a 50% chance of being retrenched in event of an industry down-turn.
Hundreds of pilots' careers came to a quick end as a result of the 1989 Australian pilots' dispute.
Many of my friends have had their aviation medical license permanently revoked (and their aviation careers terminated) due to declining health.
Pilots can purchase "Loss of Licence" insurance in the event that they cannot renew their Aviation Medical Certificate.   However I consider the cost of this prohibitive for the return.
Rather than taking Loss of Licence insurance, I recommend that when you have found your first job in an airline that you study to acquire a backup career in another profession (building, law, finance, computing …).   Ideally choose an alternate career that complements aviation (ie computing, electronics, engineering ..).
Everyone has a plan until they are punched in the face –  Mike Tyson
You should have an alternate career in reserve in case you decide that aviation is not for you.   You need a backup career so that you do not feel like a prisoner locked in a career that no longer inspires you.   Perhaps:
you are tired of the stress that accompanies the continual study, simulator checks and route checks
your body does not handle the time zone changes
your wife does not like you being away from home and the kids
your income is not worth the early starts and late finishes
you become tired of flying
7.1  Security is an illusion
"Security is a swear word!"   I purposely wrote these words in my book QF32 (page 33) because you will never find security in an aerospace career.   Indeed it's an illusion and counter-productive for those who think that they have it.
No battle plan survives the first shot
Insecurity is the fuel to build resilience.   It's okay to feel insecure.   It's positive, healthy and motivating to be aware that you are never safe from risk, and that others would be willing to take your place if given the opportunity.
People respond well to insecurity.  Our minds are biased to fear failure more than we value success.   We fear missing goals and losing opportunities.
Insecurity will keep you on your toes.  It will energise you to seek new opportunities and espouse the best work ethic and to succeed.  Listen to you insecurities and let them power your progress.
So never take anything for granted.  Never stop enhancing and diversifying your skill sets.   The sooner you accept to live with insecurity, the sooner you will take control over your career and your destiny.
7.2 Alternative Careers in Aerospace
Many potential pilots will be disappointed to discover that they are unable to pursue a flying career.  The strict medical, physical and psychological requirements will prevent many aspiring pilots from achieving their dreams.
If you find yourself in this category then do not give up – do not surrender for there are many exciting and rewarding alternative careers in aerospace that are waiting for you – if you jump to the challenge!
never give up – never surrender!
I recommend that you attend university and complete an engineering degree if you want to embark on a non flying aerospace career.    I recommend a commerce, finance, or law degree if you do not want to complete an engineering degree.
Engineers gain the practical knowledge, skills and experience that engenders courage and the confidence to tackle any aerospace profession. Indeed, engineers appear to dominate in the highest echelons of aviation in leadership, management and specialist areas. An engineering degree will also ensure employment in almost every STEM based industry.
I think the Mechatronics Engineering degree provides the ideal foundation for any aerospace career.
Exciting opportunities exist for university graduates in the following aeronautical industries.  Pick the career that motivates you the most:
Leadership & Management  (Tom Enders, CEO Airbus is an engineer.   Richard Carcaillet, Head of Strategic Marketing at Airbus is an Aeronautical Engineer.  Simon Ford, head of Alternative Investments at ANZ is an Aeronautical Engineer, Alan Joyce, CEO of Qantas is a mathematician)

Finance (leasing, venture finance, insurance)  (Most of the infrastructure financiers at (Banque Nationale de Paris)  hold engineering degrees)
Safety (safety, risk, certification)
Administration (flight planning, scheduling, crisis management)
Manufacture (aircraft, simulators, support equipment, UAVs)
Training (simulator instructor, ground theory instructor, safety, CRM, decision making, teamwork, psychology
Electronics (simulators, aircraft systems, communications)

Engineer (airframe, avionics, power-plant, design, performance)

Computing (automation, robotics, brain in a computer)
Services (fire, rescue, Air Traffic Control, airports, ground support)
Military (army, navy, air force, marines)
Space (rocketry, commercial travel, exploration)
Research and Development (STEM, renewable power, fusion, power storage, aerodynamics, DARPA, NASA ..)
This list provides a remarkably exciting view into the next generation of career opportunities that will be available for engineering or STEM graduates.

I envy the opportunities that are available for you to choose from and I hope that you jump to the challenge!
8.  Aviation Industry
Back to: Aviation Pathways
8.1 Demographics
Back to: Aviation Pathways | Aviation Industry
The world's population is moving and condensing to live in mega cities:  (Airbus 20 year Global Market Forecast: 2016-2035)
62 percent of world population will be city dwellers by 2035
Mega-cities as markets with more than 10,000 passengers per day departing on flights of more than 2,000 nm (Airbus)
Mega-poles are massive regional centres that are separated by about eight hours flying time.
2.5 million passengers will travel via aviation mega cities every day in 2035
Mega Cities will rise from 55 (today) to 93 in 2035
By 2050, six billion of the world's 9 billion will be living in megapoles.  (Alain Garcia, Former Airbus CTO, 2014).
47 of the current 55 mega-cities are slot limited.  They account for 35 percent of world GDP.
.
8.2  Industry Growth
Back to: Aviation Pathways | Aviation Industry
The World's aviation industry has been reliably doubling every 15 years (since 1972):
4.37b pax travelled in 2018, a growth of  6% last year.
This growth is expected to continue over the next twenty years. The number of passenger kilometers travelled will triple between 2010 and 2050.
Asia-Pacific (2.3 billion, up 7.1% over 2013)
Europe (1.8 billion, up 5.5% over 2013)
North America (1.6 billion, up 3.2% over 2013)
Latin America-Caribbean (531 million, up 6.4% over 2013)
Middle East (308 million, up 10.8% over 2013)
Africa (180 million, up 2.7% over 2013)
Aviation – Revenue Passenger Kilometers (RPKs) (Boeing graph, 2015)
To meet this expected demand, the number of aircraft (in service) will double (from 20k to 42k) and 1,500 aircraft must be built every year through till 2050. (Alain Garcia, Former Airbus CTO, 2014)
8.3  Pilot Employment
Back to: Aviation Pathways | Aviation Industry
533,000 new commercial airline pilots will be needed to fly the new aircraft over the next 20 years (2015-2034):   (Boeing Pilot and Technical Market Outlook for 2015)
Asia Pacific – 226,000 (Vice President Sherry Carbary – Sep15)
Europe – 94,000
North America – 88,000
Middle East – 55,000
Latin America – 45,000
Russia and CIS – 18,000
Africa – 17,000
560,000 new pilots will need to be trained to fly the world's fleet of passenger aircraft (over 100 seats) over the next 20 years till 2036  (Airbus Forecast 2016)
19,500 to 40,000 – Commercial Passenger fleet growth  over period
560,000 new pilots required to:

replace retiring pilots
grow the jet pilot pool from 200,000 today to 450,000 by 2035
Economies will grow at 5.6 percent per year over the 20 year period 2016-2035: (Airbus 20 year Global Market Forecast: 2016-2035)
Passenger traffic will grow at an average 4.5% a year
Within 20 years 75 percent of the population will travel
Air Traffic will grow by 3.7% per year
8.3.1 Asia – Pacific
Asia-Pacific is the engine powering growth in the next 20 years:   (Airbus 20 year Global Market Forecast: 2016-2035)
China will be the world's biggest aviation market by 2025
Account for 46%  of new aircraft purchases
8.3.2  Asia
Expect many jet pilot jobs to surface in Asia over the next two decades.   Opportunities in Asia offer young pilots the opportunity to accrue significant jet command hours in a minimum time.  This is a good path to building the command hours you will need to join larger international carriers.
China's domestic air traffic will become the world's largest by 2015  (Airbus 20 year Global Market Forecast: 2016-2035)
Hans Rosling's excellent presentation explains the origins of the emerging affluent China and Asia economies.  Draw you own conclusions for opportunities in air travel.
Pilot demand in the Asia Pacific region now comprises 41 percent of the world's needs  (Boeing Pilot and Technical Market Outlook for 2014)
Forecasting the future:
30% of the industry is now based in Asia Pacific (Tony Webber, 2011)
45% of aircraft traffic will be in Asia Pacific region in 2050. (Alain Garcia, Former Airbus CTO, 2014)
45 new airports are being built in Asia over the next 5 years. (IATA Jun 2011)
40% of the worlds cargo market is in Asia  (IATA Jun 2011)
The worlds largest order of 234 aircraft was recently made in March 2013 by Lion Air of Indonesia, a company that formed only thirteen years ago and currently has 18,000 workers.
The ASEAN Open Skies Agreement (opening up the Asian markets in 2014) provides benefits and opportunities to access this massive market.
Japan's Low Cost aviation market has potential growth of at least 400% over the next few years as Bullet Train Passengers change to faster-cheaper low cost airlines (i.e. Jet Star Japan)  (Deutsche Bank – 2013)
Hong Kong airport's two runways were 96% fully utilised in 2013 and will be saturated by 2016.   The airport currently services 370,000 flights over the past 12 months (an average of 65 flights per hour, close to its  upper cap of 68 per hour).  (Norman Lo Shung (Director-General, Civil Aviation Department, Hong Kong, 2013))
Regional
Airbus forecasts Asia-Pacific to be biggest regional market by 2032.  (AGMF Sep 2013)
Long Haul
The world's top 30 airport mega cities handled more than one-third of the 2014 global passenger traffic:
London ~ 147 million passengers handled at six airports in and around the metropolitan area
New York – 116 million passengers at three airports
Tokyo – 109 million passengers.
93%/99% of long haul traffic is/will be flown between 42/90 Aviation Mega Airports in 2013/2032 respectively   (AGMF Sep 2013)
8.3.3 Middle East
The Middle Eastern airlines are defining aviation's future for the next 50 years.
The Gulf has established itself as a key aviation hub from the perspective of linking continents by air. 55,000 new commercial airline pilots will be needed over the next 20 years (2013-2032) (Boeing Pilot and Technical Market Outlook for 2014)
The Middle Eastern carriers (Emirates, Etihad, Qatar and Flydubai) placed  a staggering US$162 billion order for aircraft at the Paris Airshow in November 2013.  Emirates placed a US$99 billion order (list prices), the  largest aircraft order in history for 200 aircraft comprising: 35 Boeing 777-8Xs, 115 Boeing 777-9Xs and 50 Airbus A380 aircraft.  
Emirates has so many aircraft on order that they will need 19 new pilots to train EVERY DAY for the next decade to meet demand.     The airline is hiring as many First Officers as possible to cater for its continued expansion.  It has also reopened direct entry for eligible Captains.

8.3.4  Europe
94,000 new commercial airline pilots will be needed in Europe and the CIS over the next 20 years (2013-2032)(Boeing Pilot and Technical Market Outlook for 2014)
European aviation is also doubling about every 15 years.  European air traffic controllers are expecting demand to double between 2013 & 2025-30.

In an already congested airspace, controllers are transitioning to four dimensional control (latitude, longitude, altitude, time) .   (Richard Deakin, CEO, NAS, presenting the RAeS Brabazon lecture, Nov 2013)
9.  Aircraft
Back to: Aviation Pathways

9.1. Aircraft Production
The demand for and production  of new aircraft is at an all time high:
This is the busiest year in 15 for maiden flights:  Airbus A350 (June 2013), Boeing 787-9  (Sep 2013) and the Bombardier CSeries (Sep 2013)
The worlds fleet of 20,000 commercial aircraft will more than double to 42,000 aircraft by 2050  (Alain Garcia, Former Airbus CTO, 2014)
The newest Airbus A380, Airbus A350 and Boeing 787 aircraft will probably be flying until 2060
9.1.1.   Boeing predictions – next 20 years (Jun 2015)
4.8 percent -average annual rates of passenger traffic growth
39,620 new new airliners  and freighters (incl 2380 regional jets)
Airlines will need 38,050 new jets worth $5.6 trillion as the world's fleet doubles over the next 20 years:
26,730 Single-aisle
8,830 widebody aircraft
These aircraft will be delivered to:
40%  to Asia Pacific
20% to Europe
20% to North America
20% to Middle East and rest of world
Dec 2016 – 2035 Oceana Predictions (Australia, New Zealand & South Pacific)
1,020 new aircraft worth $US160 billion
9.1.2.  Airbus forecasts
32,425 new passenger acft required:
23,500 single aisle (71% of total).  Asia Pacific will take 39% of these acft
9,500 widebody (passenger and freighter) aircraft (29% of total, 54% of  US$2.8 trillion total value).  46% will be deployed in Asia Pacific
13,000 of these purchases will be to replace passenger and freighter aircraft with more efficient types
Airbus Forecast 2015-2034
By 2034, passenger and freighter fleets will more than double from today's 19,000 aircraft to 38,500. More fuel efficient types will replace some 13,100 passenger and freighter aircraft  (Airbus, June 2015)
32,585 new passenger and freight aircraft required worth US$4.9 trillion (4% increase on 2014 forecast)
22,927 single isle aircraft  (up 15% from previous forecast)
8,108 twin aisle aircraft  (up 4%)
1,550 very large aircraft (steady)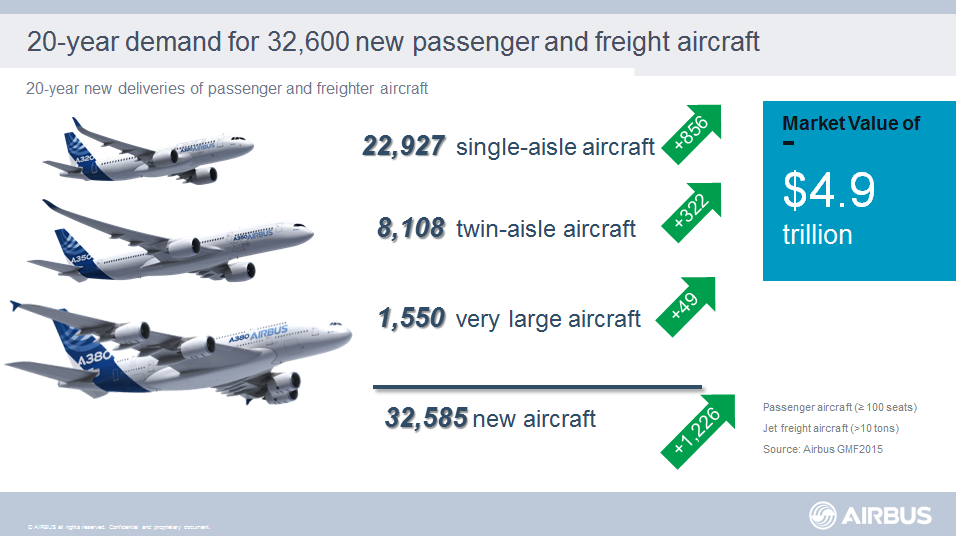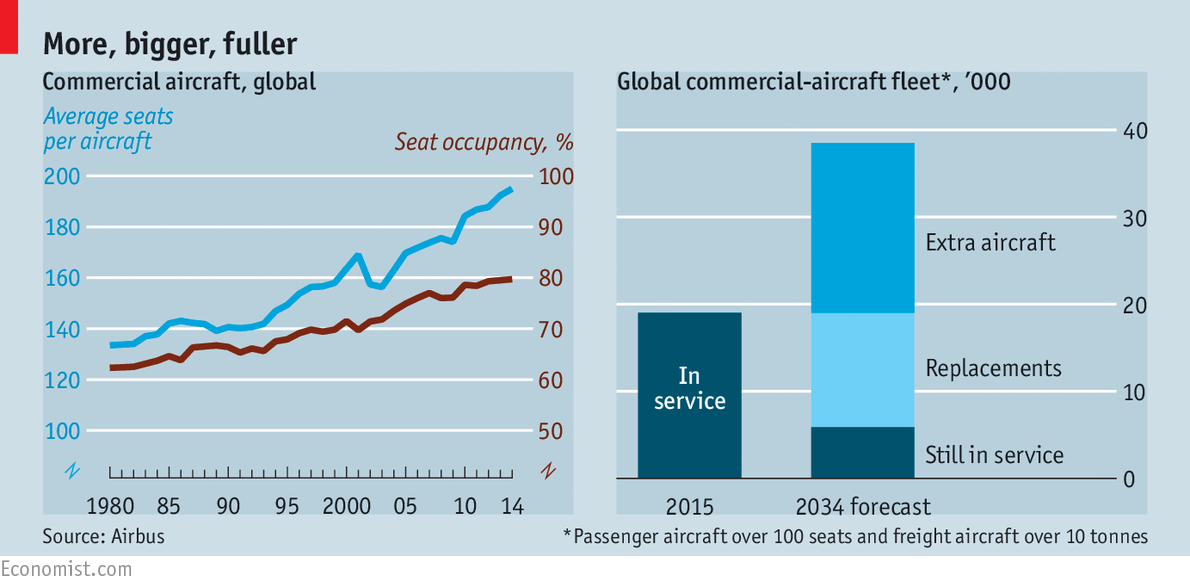 China will displace North America as the world's largest domestic market before 2024.  Airbus is considering building a short range A330 fine tuned for Chinese domestic routes.
31,400 new aircraft required  (US$4.6 trillion) up until 2033 (next 20 yrs).   The world's in-service fleet will double:
20,000 single isle (up 9% from previous forecast)
7,800 twin isle
1,500 very large aircraft
Commercial aircraft pilots are an endangered species
9.2.  Pilot-less Aircraft
Commercial aircraft pilots are an endangered species.
We will not trust (and stop fearing) machines until machines become as resilient as their human operators.
9.2.1  Pilot-less aircraft – the threat to pilots
As aircraft auto-flight systems progressively become more reliable and efficient, there will be a point in time where travelers start to trust their lives to pilot-less aircraft.  At that point commercial airline pilots will become an endangered species.
Commercial pilots will ultimately become extinct when the commercial aviation industry and its passengers fully embrace pilot-less aircraft.
Don't hold your breath waiting!
9.2.2  Building resilient pilot-less aircraft
We will only be able to build resilient pilot-less aircraft when we can replicate human thought, consciousness, awareness, and prediction (sentience) in a machine.
9.2.2.1  Getting Technical About Computers
Flying an aeroplane is no easy task for computers:
Modern PRIMary flight control computers have limited capability and are not as capable as you might expect.
Speed is compromised for redundancy.  Triple redundant PRIMs must derate bus and processor speeds to sync with (and not overload) the backbone bandwidth (to enable fail-operational transition of control from one PRIM to another PRIM).
Certified aviation software is always years behind the civil community. You can't stop an aeroplane in flight.
Data buses, security and reliability is a problem much greater for aircraft than office computers.
Garbage in – garbage out:

The software (programming) in the Air Data Computers was unable to resolve the faulty (Air Data Computer) inputs on QF72 — the FCCs sent the aircraft from +1 to -0.8g in 0.5 seconds.
Multiple systems and checklists were faulty on QF32 due to sensor failures and limitations of the conecting (CAN) busses.

Autopilots on Boeing and Airbus aircraft have less authority than the pilots, and can only be used for relatively smooth flight.   They are ideal solutions for landing in (smooth air) fog.
Aviation's future belongs to parallel computers, not serial computers.
The current generation of serial computers might have reached their "Amoeba Horizon" (my term) of complexity.  The amoeba's surface area to volume ration increases in proportion with its radius.   As the amoeba grows, it reaches a critical radius, where there is insufficient surface area to support the internal organism.    I make the same analogy with computers.
As the complexity of serial computers increases exponentially with the amount of hardware and logic, there gets a point where the computer grows to become too complex to debug and impossible to make resilient.   At the Amoeba Horizon, introducing more features comes at the added cost of introducing more potential failures and lowering reliability.   This might be acceptable for land based computers, but not for aircraft computers.
9.2.2.2 Linear procedural computers
The current generation of serial computers function slowly using procedural code for relatively simple applications.  By definition, these computers have no ability to function when the unexpected happens in the black swan's world of unknown unknowns.
We will only be able to build resilient pilot-less aircraft when we can replicate human thought, consciousness, awareness, and prediction in a machine.
Current generation computers and servers (PCs, Apple Macs, iPads ..) do not have (at their core) the capability for parallel processing, fault tolerant nor resilience.   Even the extraordinary Boston Dynamics robots  are still controlled by serial computers that provide no path to or a solution for the creation of sentient machines or for the control of pilot-less commercial passenger aircraft.
We stop our simple computerised cars and trains when things go wrong.  We drive to the side of the road, stop and call a friend or tow truck when the unexpected happens.  Pilots and thir passengers do not have this luxury when things go wrong in the air.
There are many examples of significant events that resulted from failures in "high technology" serial computerised systems and machines:
9.2.2.3   Sentient Machines
We require resilient autonomous machines for applications where failure is not an option.
The computers that control pilot-less passenger aircraft must be able to mimic the human mind.  These computers will offer massive parallel processing and interlinked capabilities to match or exceed the capabilities of the four human brains and to be able to host human thought, awareness, prediction and behaviour.  These computers must also have the situation awareness, learning and decision making abilities to resolve complex four dimensional and unthinkable problems in the air, without becoming distracted, without giving up – situations for example like the Miracle on the Hudson.
These machines do not currently exist.  I do not expect the first sentient machine to be built until about 2025.  It will take another ten to fifteen years to complete the R&D and take the designs to the production floor.
Until then, it is only human pilots who have the only chance to save people during Black Swan events.
9.2.2.3   Resilience of computers vs the human brain/mind.
Trust and fear are natural enemies.  We cannot trust thing we fear.
How much do you trust computers?  Can you trust a component that must be periodically rebooted to boost its integrity?
How many times do your electronic component reboot themselves?  (router, automation controller, car …).   Key A380 computers are rebooted periodically (per day/week/month).
How many times in your life have you "rebooted" your brain?
The human brain is a parallel computer that has no reboot facility.  Anaesthetics might dull our awareness of our body, but when all synaptic processes in our brain cease, that is the point when we are unrecoverably dead.  The good news is that when a small part of our brain fails, other parts of the brain continue to function and may even take over control of the functions that were lost.   The human brain is remarkably resilient.  Today's machines are not resilient.
In summary, we will not trust (and stop fearing) machines until machines become as resilient as their human operators.
9.2.3  Human Brain and Mind (sentience) in Silicon
Many organisations have allocated considerable resources to replicate the human mind in silicon, including:
The human brain is at least 20,000 times more power efficient than the TrueNorth chip "brain".
IBM's TrueNorth processor chip provides an infantile  but necessary start for our quest to build neuromorphic and cognitive systems.  The TrueNorth processor requires 70 milliwatts of power to run 5.4b transistors, providing 4,000 (parallel) cores that each host 256 Neurons and 65,000 synapses.
Apple's M1 Max processor (2021) is even more extraordinary with about 57b transistors.
The human brain is at least 20,000 times more power efficient than an equivalent TrueNorth "brain".    Human brains need 20 watts of energy to power about 86 billion neurons and 100 trillion synapses.    We woudl need to assemble 100 racks of 4,096 TrueNorth chip arrays to match the number of synapses in the human brain.   These racks would require 400 kilowatts of power, 66% of the output from the electrical generators on board an Airbus A380, enough to power 800 average homes, enough to power 20,000 human brains!
9.2.4  Marketing pilot-less aircraft
Ideas for a pilot-less aircraft are free, execution is priceless, but marketing may be almost impossible.
It's easy to think that the general public might fly in pilot-less aircraft sometime mid this century.  The aircraft will be built.   Innovative airlines will buy them.   Adventurous passengers will fly them, adventurers similar to those who will rocket into space on board Virgin Galactic.  But how quickly will the pilot-less market transition to include the John Doe on "main street".
The fact that pilot-less aircraft will exist does not imply that people will fly them!
Ideas for a pilot-less aircraft are free, execution is priceless, but marketing may be almost impossible
Many excellent technologies that deserve to persist, die in adolescence due to poor strategy and marketing.   Course "Technical Marketing Strategy 101" starts with learning how to "cross the technological chasm".
The "Law of Diffusion of Innovation" explains how high technology products are accepted into society.   High tech developers who ignore this law, do so at their peril.
The Law of Diffusion is expressed in a bell curve.  This bell curve shows the stages in the lifespan of a technical product.  It starts with the initial take-up by tech adventurers, risk takers and "product disciples".  It finishes when the last product expires in the few hands of the last technology laggards.
A "chasm" blocks and confronts the product as it tries to grow and expand into new markets:
High risk Innovators and Early Adopters are the first to support new products.  These confident people are the risk takers in leading edge industries. They wanted to be the first to explore and benefit from new technologies.
The Early Majority or "main street" users are the next group of users to accept a product as it gains acceptance.   These "main street" people exhibit a slower, more rational, methodical and risk averse approach towards accepting a new product.
These Early Adopter and Early Majority markets are like oil and vinegar – they don't mix.   A chasm in values and beliefs separates them.   They espouse different levels of confidence and courage.  They take different risks.  So both markets must be approached differently.   Your product will stall and probably fail if you don't recognise the values and behaviours of these different groups of purchasers and adjust your marketing strategy accordingly.
The chasm is a "killing zone" in the life span of a product.  This kill zone separates those products that are initially accepted only by the few passionate (high risk) innovators and early adopters, from those products that continue to be accepted by the majority of the populations that are skeptical, unemotional, analytical, price-conscious and sometimes lazy.
Products fail to gain widespread acceptance when the manufacturers ignore the the technological chasm.
The Segway fly-by-wire scooter failed to be accepted by the early majority market because the Segways were never granted safe operating areas to share with existing roads, cars, footpaths and pedestrians.  Segways cannot climb stairs.   The Segway stalled in the small innovator and early adopter markets, where it is bogged today.
Apple's iPhone provides a case study of a product that was expertly designed and marketed to cross the chasm.
9.2.5   The future for pilot-less aircraft
Pilot-less aircraft will be introduced into our society just like any other high technology offering.   How well consumers accept pilot-less aircraft will be determined by the ability of the aircraft manufacturers and airlines to build and retain the travelling public's trust in high technology.
Manufacturers that respect the Law of Diffusion will set in place many strategic processes to sequentially win the minds of the many markets.
The acceptance of new pilot-less aircraft will follow the sequences of the Law of Diffusion bell curve over time:
Innovators and early adopters will be the first to experiment and trial pilot-less aircraft.
The "main street" users will avoid these aircraft until emotional, financial and safety case studies prove the technology to be established, cost effective and safe.
Twenty five percent of the travelling population have a fear of flying.   It will be a massive challenge to get these people to board a pilot-less aircraft.   This 25 percent will significantly skew the bell curve, increasing the late majority and laggard markets at the expense of the early adopter and early majority markets.
Laggards will only board pilot-less aircraft when no alternatives exist.
A safety case cannot logically be used to force the aircraft industry to be the first industry to be fully autonomous.   On average, 500 people die in commercial aviation world-wide every year. Contrast this number with the 1,500,000 people that die on the roads.     If non-tolerance for the loss of life becomes the motivator for change, then expect the car industry to be the first industry to go driver-less.

Would you be comfortable travelling in a pilot-less plane?   Here are the results of an online poll by Australia's Sydney Morning Herald newspaper in September 2015.  Of the 2,628 readers:
23% – Yes, no problem  (innovators and early adopters)
3% – Only if there was a technician in the cockpit  (perhaps the early majority)
41% – Only if there was a qualified pilot in the cockpit (perhaps the late majority)
33% – No way, I'd rather get a boat (laggards)
9.2.5  RAeS Black Tie Debate
On 12 January 2016 the Royal Aeronautical Society (RAeS) marked its 150th Anniversary with a historic debate "This House believes there will be no need for pilots 40 years from now".   Tim Robinson (RAeS Editor-in-Chief  "AeroSpace" February 2016 p30) reported great comments from both sides:
Yes

In 40 years time it will be possible to program the computer controlling an aircraft with every aviation accident, providing an unprecedented level of safety
Why wait 40 years? …   The leather jacket and white scarf brigade was holding up progress
Global Hawke v U-2 – double the flying for half the cost?  (Click here for a counter view)
This is not a new issue, railway signalmen and lift operators have already been replaced by computers

No

What's the problem we're trying to fix?
Pilots are a reassuring presence
Human interaction is critical
Though we don't need priority boarding, first class seating and champagne, customers still "needed a pilot"
There would still need to be supervision and humans in the system to manage passengers
Best results when humans and machines worked together
There is no substitute for humans when thinking "out of the box"
The reliability of humans is pretty amazing.   Safely recovering from an incident like QF32 had to be weighed against automation
Would an AI pilot make the leap to put an aircraft in the Hudson like Sully Sullenberger?
Would an aircraft distinguish between crashing into a school versus an old person's home?
Even George Lucas made the Millennium Falcon a two crew flightdeck

Undecided

We can't imagine the advances in the next 40 years
The RAeS audience voted 60% yes / 40% no that "there would be no need for pilots 40 years from now."    In an interesting twist,  Tim Robinson ran a parallel on-line survey where 90% of 87 voters decided Yes and 10% voted No!
9.2.6   Pilot-less aircraft – Summary
Relax aspiring pilots!  There will be a sustained need for your skills well up until 2060.
The forecast aircraft deliveries for Boeing and Airbus aircraft shown above are all deliveries of  piloted aircraft.  You will be flying these aircraft that will each have a commercial life expectancy of about 50 years.
The pilot and his manually-piloted aircraft, like every other technology, will ultimately become laggard/ extinct.  Extinction however will not occur during this century.   More piloted aircraft will be developed whilst we wait for the autonomous passenger aircraft:
newer versions of the Boeing 737, 757, 767 and 777
newer versions of the Airbus A320, A330 and A350.
Each of these piloted aircraft will contribute to delaying the extinction date for pilots by a further 50 years.  (For those who wonder, the Earth has sufficient gas reserves (that can be converted to any hydrocarbon based fuel) to last for 250 years.)
Like all technologies, the airline industry will ultimately accept pilot-less aircraft.  However this will be an  evolutionary process involving many predictable stages that will take an extraordinary long time. Do not expect to see pilot-less aircraft in commercial passenger operations until the first innovators and early adopters test the market probably some time after 2035.
The commercial pilot-less passenger aircraft is a revolutionary and disruptive technology.  The threats and risk of failure are high.   History teaches us that companies that introduce revolutionary technologies often fail.
This chasm will block and consume the first attempts to take the pilot-less commercial passenger aircraft into the main street markets.   Companies that are ignorant of, or ignore the threat of the chasm will fail.
The first autonomous vehicles will be
cars on shared roads
freighter aircraft on oceanic routes.
Boeing, Airbus and other aircraft manufacturers are currently researching pilot-less aircraft.     They have united to research the "Advanced Cockpit for Reduction Of streSS and workload" project (ACROSS).   ACROSS will form foundation for future proprietary and confidential research.  Expect to read more information about these topics only when the product patents and futures are in place.
Additional reading – pilot-less aircraft:
10.  Life Plan
Good Health
Dignity & Respect
Meaningful Life/Work/Purpose/Many Careers
Love
Ideas are free, execution is priceless.  So get out there.  Never give up!  Failure is not an option!  Be strong! Shine!  FLY!
Back to: Aviation Pathways
Though I am not qualified to advise others about how to plan their lives, I list some of my thoughts below in case they might help others.   My observations have been gleaned from discussions  with pilots throughout their lives, noting the types of plans that succeeded, and those that did not succeed.
We all want to be happy, yet not all of us are.  True happiness inspires us to get out of bed every morning, to make meaningful connections with other people and to enjoy the opportunity that each day brings.
Happiness cannot be bought or given – it has to be earned.   You have to commit to and invest in happiness before you can expect any rewards.  The top four keys to happiness are:
good health,
dignity
meaningful work/purpose/many careers, and
love.
When you acquire these keys, you will find the comfort that comes from leading a full and rewarding life.  You will be a giver to the world you have inherited, not a taker, and you will understand how to contribute to improving our world.  You will also have the confidence to ride through life's vicissitudes of successes and failures.
Note: These keys assume that we satisfy our basic:

physiological needs for food, sleep, warmth, and sex, and
security needs for a home, job and physical protection.
10.1   Good Health
Pilots start their careers with good health.   You must strive to remain healthy not just for your career's benefit, but also for your happiness and personal well-being.  Keep fit, establish a healthy diet, and socialise.
THE LANCET – 1918:   When they have finished flying for the day their favourite amusements are theatres, music (chiefly rag-time), cards, and dancing, and it appears necessary for the  well-being of the average pilot that he should indulge in a  really riotous evening at least once or twice a month. 
A pilot's life is one of continual study, learning and development.  It is a life of annual licence recertification tests and transitions to operate many different and increasingly complex aircraft types.  Your ability to successfully negotiate these challenges depends upon your brain's ability to be "plastic" – its ability to learn, adapt, form and cross-link new memories and practices.
Study and exercise protects our mind, memory and movement.
Keep your brain healthy.  Balanced servings of nutrition, sleep, exercise, reading, thinking, study and Deliberate Practice make up the ingredients for a healthy brain.
Deep (non-dreaming) sleep is essential for learning.  Brain neurons (that resolve recent experiences and learning) are created during the early stages of sleep.
Dreaming sleep is important for memory retention.  This is the period when recent memories are rationalised (retained or overwritten) and cross-linked (think hyperlinked) and made accessible broadly.
Exercise promotes the generation of new grey matter – neurons that increase mental agility and memory capacity.

Keep thinking.   Exercise and mindful study stimulate the Oligodendrocytes in our brain to coat axons with fatty white coloured Myelin (white matter).  Myelin insulates and protects these "hyperlinking" axons (just like the shield in a coaxial cable).  Myelinated nerves have a bandwidth three thousand  times greater than normal  nerves!  (100x higher Tx/Rx rate and 30x higher recovery rate). Myelin protects our memories and physical coordination from atrophy, short circuits and eventual collapse.

Keep practicing.  Deliberate Practice  is essential for improving mental and physical performance.   Deliberate Practice converts slow and mindful procedures into dedicated fast, subconscious and instinctive circuits in the prefrontal cortex.
Physical and mindful exercise is also thought to influence the onset of diseases such as Alzheimer's and Amyotrophic Lateral Sclerosis (ALS).
Control your stress to maintain a calm mind.
"Stress can be a challenge for any pilot. In fact, "airline pilot" consistently ranks number 3 on the most stressful jobs, behind only combat soldier and firefighter. Not only can the job itself be stressful, but the lifestyle as well. By the nature of the job, the pilot is away from one's family for days at a time, and often flies on "the backside of the clock," and for long hours. Future pilots would be advised to be proactive in combatting stress by developing a regular exercise regimen and relaxing hobbies" – Captain Eric Auxier
Make the most of your life.      Even if you are 100 percent healthy today, face the reality that your health will decline as you age.   You cannot truly appreciate the importance of mental and physical health and mobility until you have lost it.   So make the most of your life, keep fit and healthy, seek every opportunity and live everyday as though it is your last.
10.2   Dignity
Every person needs dignity and respect.  We value respect and recognition more than we value reward.  You must however act respectfully to be respected.
Nelson Mandela, Martin Luther King & Mahatma Gandhi  understood the "WHY" that underpinned their core values and beliefs, maintained their dignity, put others first, and as a result, peacefully changed the world.    Wouldn't we all like to be this fearless.
Your world is nothing more than all the tiny things you've left behind,
So tenderly your story is,
Nothing more than what you see
Or
What you've done or will become,
Standing strong do you belong in your skin,
Just wondering    (Lyrics – Gran Torino)
Respect the person you see in the mirror:
Honesty is the simplest path to self-respect.
Recognise your individuality and potential.  Ask yourself,  "Have I lived wisely?   Where am I along the path to reach the goals I set when 18 years old."
Work hard and don't be afraid to fail.   Indeed welcome failure for the lessons and wisdom that it provides.  Accept the hard realities of life, even unfairness.  When life is not going your way, avoid focusing inwards and harnessing anger and regret.   Instead, keep your morale and ambitions high, look ahead, work hard and continually challenge yourself.    Perceive what others see as obstacles as motivators that power and direct your persistence.
Be kind to, and find good in yourself and others.  Take yourself out of the center for you do not matter!   It's what you can do for others (particularly friends, partners and the disadvantaged)  that counts, not what others can do for you!
Give to and help others.     Aside from benefitting the receiver, the giver also receives a dopamine and oxytocin reward – improving happiness.
People who fail to take responsibility for their failures, become bitter and jealous of success in others.
When others succeed, it is human nature to compare ourselves to them, and in the process lower our self esteem and in the worst case create senses of inadequacy and self loathing.   Jealous people by design are critical of others who are more disciplined, committed and competent.
Jealousy is your problem, so prevent it:
Respect others' success.
Draw your sense of pleasure and dignity from within – not from comparing yourself to others.   You will never be happy when your scale of success changes with the success of others.
Don't let the opinions of others affect your feelings of achievement and happiness.
10.3  Meaningful Life/Work/Purpose/Many Careers
Our meaning and purpose of our life comes from success pursuing and achieving our goals.  Our meaning comes when we commit to take personal responsibility to raise above who we are, and change to become the person we want to be..
Indeed, when you think about this, you might realise that the people we respect turn out to be not those who have inherited success, but those who have been disciplined to take responsibility and commit to change their lives.
To lead a meaningful life
know, own and be unafraid to tell people your values and beliefs,
set your goals to become the person you want to be, and
commit to accepting full responsibility for your actions and to achieve these goals.
10.3 .1 Meaningful work/purpose
Meaningful work/purpose consists of:
being a master of your own fate rather than at the mercy of others,
doing every day what you love and excel at,
keeping a positive attitude to perceive problems as challenges to overcome,
getting encouragement and support to develop your skills, and
being respected for your action and opinions.
Choose a job you love, and you will never have to work a day in your life" (Confucius)
Take a job that you love.   You are out of your mind if you keep taking jobs that you don't like because you think it will look good on your resume. Isn't that a little like saving up sex for your old age? (Warren Buffett)
Be the master of your destiny.  You only live once so ensure that you retain control otherwise live the life you want.   A survey by PARADE magazine and Yahoo! Finance in 2012 identified that about 60% of the Americans surveyed fully regretted their career choices.  Their senses of purpose, dignity, happiness and well-being suffered and they suffered stress because they were living out someone else's dreams and aspirations, not their own.  Don't let this happy to you!
Work hard, stay positive, and get up early. It's the best part of the day (George Allen)
For parents of future aviators, the most important thing you can do is to encourage you children to discover their own passions, then to enable your children to pursue their passions.    Don't spoon feed your children, rather help them clarify their thoughts, help them develop their plans, then be a catalyst to help them help themselves.  (See also Motivating our Youngest Generation)
"Too many of us are not living our dreams because we are living our fears."  (Les Brown)
For the aviators reading this, your task is to get your aviation licences, flying experience and with these requisites gain access to a satisfying aviation job.  Your mission throughout is to maintain your motivation to excel. Aviation breeds passion, excitement, engagement and growth:
"Equilibrium is the precursor to death!"
Work hard.    Identify a few special areas to focus your skills on that you can someday look back on with a different sense of pride.  Then you will to feel great both now and later.
"Build your own dreams, or someone else will hire you to build theirs."  (Farrah Gray)
Work with your "heroes" instead of starting out alone:
Find a person who will be your mentor.  You have insufficient time and resources in aviation to learn everything from your own mistakes.
Join a team.  You will gain knowledge and experience more quickly as an "apprentice" in a successful team than when you work alone.  Indeed joining  a passionate and successful company and doing what you really want to do in your life might be even more rewarding than continuing with a Master or Ph.D degree.
You must act respectably if you want to be respected:
Act like a CEO, because that's what you are in your aircraft – not a back office employee.
Be present.  Meet, greet and talk to your passengers – don't hide behind the flight deck door.  Empathise with the crew and passengers, ensuring that their interests are at the center of all your thoughts and actions (the WHY).
Be happy, fun and positive!  You control the attitude that you project.   Indeed, the Captain sets the atmosphere for the passengers and crew on every flight!   Make your attitude an award winning and world famous attitude that welcomes others and "makes their day".
Be honest.  Tell passengers the truth (full and open disclosure) and be prepared to give a personal guarantee.
Always expect and plan for the unexpected – that's what your passengers expect!  Never admit to being bored in an aircraft because others will think that you are not thinking about and preparing for the unexpected.    Would you like hearing brain surgeons telling you that they get bored during their surgeries?
Be confident but modest (even vulnerable) for you never know it all.   Indeed the minute that you think you know everything  is the second before you do something really stupid.   There is a health benefit from being confident.  Highly extroverted people have more active inflammation-immune systems and thus recover faster from injury than introverted people.
And when it becomes your turn, give time to help others just as others have helped you.
Never procrastinate.   "Do it now!"   "The best time to plant a tree was 20 years ago. The second best time is now"
Be safe.  If you are not committed to safety then we don't want you in the pilot's seat.  It's the pilots' responsibility to ensure that every passenger has the opportunity to meet their loved ones at their destination.   When you begin flying, one bad decision to continue flying into bad weather could cost you your career and/or your life.  However when you command the big jets, your responsibility widens to include the lives of up to a six hundred souls. And for every fatality there is about seventy other friends and loved ones who become entangled in the tragedy.
I will prepare and some day my chance will come – Abraham Lincoln
Please read my later blogs:
10.3.2   Many Careers  (Renaissance Man/Woman)
The key to resilience in your life is to plan to have at least two careers.   Step up and take responsibility for yourself and your many careers now – because the skills that got you here will not get your there.  It's better and easier to be ahead of change than a victim of it.
The average corporation has a lifetime of just 30 years.  Young people entering the workforce will have a 50 year work life.  You cannot afford to be single skilled pilot.
Be a Renaissance Man/Woman.  Be more like Leonardo da Vinci and less like Henry Ford.   Be multi-disciplinary and master many careers.   Henry Ford made his first cars in just one design and one colour – black.   In not diversifying, Henry created markets of opportunity for other car manufacturers to flourish making other designs.   DaVinci was no Henry Ford.  Da Vinci was THE Renaissance Man – a master technical artist, painter, sculptor and inventor in many fields.    Leonardo was a resilient and passionate man who loved what he did and worked hard.
Renaissance Men/Women are fulfilled and resilient.  They are passionate about multiple careers, work hard and  are creative.  Renaissance people don't consider work as a chore – in their minds they are creating art.
Love and master at least two careers.  Your first career will be flying.  Currently aviation regulations are harmonising to limit the maximum age to 65 years for airline pilots (captains, first officers, ….).   Your second career will commence at the latest when you cease flying.
When planning your many careers:
Disrupt yourself or risk being disrupted by others.   I write more about disruptions here…
Plan to continually develop and be resilient.  You will outlive the average airline so plan to change professions when your organisation fails, if you lose the passion for flight or or when your aviation career finishes.
Know yourself: your strengths, the way you work, your values and beliefs.
Develop yourself.   Concentrate on your passions and strengths.  Don't dwell on weaknesses.
Keep up with STEM and mechatronic trends because your second career will undoubtedly be immersed in this environment.
Stay young, physically fit  and mentally alive during your 50 year working life.  You will not be fit enough to start your second career if you do not look after your mental and physical fitness during your first career.
Learn to anticipate and accept change.  We cannot manage change – we must make it or be ahead of it.  Know how to change, what you need to do to change and when to do it.
Love and be passionate about your careers.   Make the future, make art.
10.4  Love
The essence of life is to love and to be loved.  Love is the catalyst to our emotional well-being and resilience.   Love increases oxytocin in the body, that in turn reduces stress, that in turn keeps our immune system healthy, that in turn improves our mental and physical health.
For junior aviators, I recommend that you wait until your aviation career is kick-started before getting "hitched".
Don't be afraid to take risks early on in your career.   Expect and embrace failures in your early years.  For knowledge, experience and growth often comes from adversity and it's better to take risks and advance your aviation career as quickly and selfishly as possible before family commitments steers your career choices.
The pilot's life opens up exciting opportunities to travel and to meet many remarkable people.   But your career path requires great sacrifices (financial, mental and physical) before the good positions become available.   You might need to position to remote areas or to Asia and the Middle East to gain flying experience (hours). It is a special person who can happily settle into the life of the pilot's spouse. So as a fledgling pilot, take your time, socialise outside aviation and find the best person who you love, is confident and independent.
Your priorities should/will change when you become married.  Your responsibilities will widen to include your spouse, marriage and career.
I believe that behind every good pilot is a great spouse, but Marta Kranz's (Gene Kranz's wife) expresses it better:
Behind every great man is a woman, and behind her is a plumber, electrician, maytag repairman and one or more sick kids. And the care needs to go into the shop!
Where your career was priority one in your early years, your career now shifts down into second place as your family responsibilities increase.   By this stage you will probably have spent the previous 15 years working hard to develop your skills, experience and to ascend the aviation ladder.  Half of your rewards for these efforts are lost if you end up divorced.
Work just as hard at your marriage to ensure that you don't end up like this Chinese couple.  Your partner must grow and develop independently as you grow and develop.  He/she must be happy to support any children at home alone whilst you travel abroad.
The most important things cannot be seen with the eyes but with the heart  (Antoine de Saint-Exupéry, The Little Prince)
Fulfillment comes from making a difference and knowing that it will carry on.  It starts with a sense of belonging and responsibility to give and self-sacrifice for others.  It starts with being part and contributing to your extended families: having loving relationships, rearing great kids and changing others lives for the better.
The more you give love away, the more you get.   There is no power on earth like unconditional love.  When you get to my age, you'll really measure your success in life by how many of the people you want to have love you actually do love you.   That's the ultimate test of how you have lived your life.  (Warren Buffett)
My wonderful wife Coral has clear priorities.  When our children were about ten years old, a friend asked Coral what her priorities were in life.   Coral's answer surprised him:
my husband,
my children, then
myself.
Coral reasoned that if she looked after me, that two parents would do a better job of raising our children that one parent.   She also understood that she would be left at home with "just her husband" as company when the children grew up and left home.
THE LANCET – 1918:  The majority of successful pilots are un-married, and our own observations tend to show that marriage is a definite handicap owing to the increased sense of responsibility.    If a man marries after he has flown several hundred hours, and flying has become automatic, marriage may not apparently affect him for some time. In some cases it may even make him steadier and more careful, but sooner or later it will in most cases have a definitely , deteriorating effect..
THE LANCET – 1918:  The unmarried man (faced with the possibility of crashing whilst doing his first solo) in most cases dismisses the thought or takes the risk in the same way as a horse-rider puts his mount at a fence in strange country. The married man has the knowledge of what death may mean to his wife and family, and, moreover, has the opportunity in many cases of discussing it with his wife and manufacturing in his own home a condition of nervousness which eventually becomes so great that he confesses to his instructor that he has completely lost his nerve.
11. Money
Back to: Aviation Pathways
I have saved this subject for last, because it is the subject that least motivates me.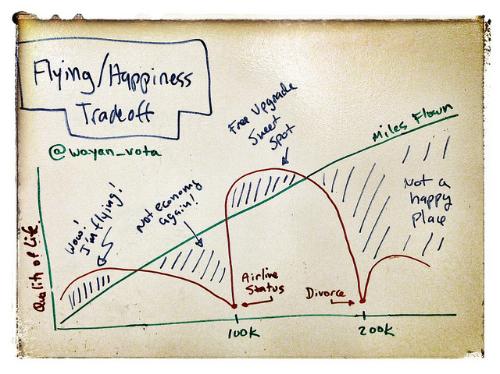 My career aspirations have never been motivated by money because you can't buy happiness.
No matter how foolish, it is not the things in life that you do, but the things that you don't do, that you regret (Nancy-Bird Walton)
I have observed that those who are obsessed with money never achieve a healthy perspective of "how much is enough".  They continually grasp for more, compare their wealth to others, and so are ultimately never content.
I have worked hard throughout my entire career,  thrown security to the wind and taken every opportunity that was within my grasp.  I have found that the skills that I have acquired along my journey have value and are appreciated in many industries. From passion, commitment and perseverance comes skill, and from skill comes rewards.
I have enough money to enjoy and share life with others.  I give back.    This is my career and I would not trade it for any desk job!

Click here for an overview of some pilots' salaries
The USA's darker side:
12.  Where from Here?
School Students
Before your Interview
Back to: Aviation Pathways
12.1  School Students
As a school student, you will have to acquire many skills to be qualified for an aviation career. Focus your efforts to excel at school.    You can do anything that you set your mind to do.
Put emphasis on mathematics and science subjects (physics first, then chemistry).
Participate in team sports to keep fit and develop leadership and teamwork skills.
Join cadet programs if possible.  The military cadet programmes provide a great way to learn about the military, but are probably only worth the effort if that is where your interests lie.
Don't be afraid of technology.  Disassemble printers, computers and hard disks before discarding them to discover how they function. Any experience with engines (motor cycles, cars, workshops, books, aero clubs) is also recommended.  You should be confident manipulating and working with machinery.  Never be afraid to play with or fix engines.
Be medically examined by a Designated Aviation Medical Examiner (DAME) to confirm that you are fit (medical and eyes) enough to hold an aviation medical certificate.
Create a file that contains information about the airlines that you wish to join and/or the military.   Visit their web sites.
Document what aircraft they fly.  Research their employment requirements for air crew.
If your heart is set on flying light aircraft, then take an introductory flight at a flying school at a nearby airfield.  This is normally free of charge.
Get a part time job over the weekends to raise money to continue flying if you want to build up more flying experience. Take every opportunity to fly in one of the front seats.   These flights will increase your motivation at this early stage.
12.2 Before your Interview
Read every aviation book that you can find.    Read my book.  Digest the stories and build up your knowledge of the industry for aviation is a knowledge intensive high tech industry that will never stagnate.
Ask your friends and family to give you aviation books for birthdays and special events.
13. Summary
Back to: Aviation Pathways
Emily Redmond, thank you for your question (at the top of this article).    I hope that I have helped to answer some of your queries.
Be strong! Shine!  FLY!
Never give up on your dreams, for the rewards are commensurate with the risks and opportunities you take as your career progresses.    Fulfilling careers await for those who are brave enough to find them and and who rise to the challenges. Security is both a swear word and an illusion.
Be a Renaissance person – stand out, master many interests, be creative and make art.   Where and what you end up flying depends upon your strong sense of self, what opportunities you constantly seize along your passionate journey to learn and develop change.  Fulfillment will surely follow.
Learn, not fail, from failure.  No matter how much failure sucks,  if  you're not failing then you're not taking risks.   Be confident and proud to challenge the status quo and take wise risks.  Be prepared to fail because it proves  you are trying.
Dare yourself to be great.  Aviation is not an easy career choice.  You'll have to learn and research for every day of your career, face the mental challenge of continual re-certification and physical challenges of working extreme hours and perhaps sometimes in extremely risky locations.   Be guided by President Theodore Roosevelt who summarised it well in his "The Man in the Arena" speech at Sorbonne, France in 1910:
It is not the critic who counts; not the man who points out how the strong man stumbles, or where the doer of deeds could have done them better.
The credit belongs to the man who is actually in the arena, whose face is marred by dust and sweat and blood; who strives valiantly; who errs, who comes short again and again,
because there is no effort without error and shortcoming; but who does actually strive to do the deeds; who knows great enthusiasms, the great devotions; who spends himself in a worthy cause;
who at the best knows in the end the triumph of high achievement, and who at the worst, if he fails, at least fails while daring greatly, so that his place shall never be with those cold and timid souls who neither know victory nor defeat.
A pilot's work is never a job.  Pilot's work is a life.  You will never succeed in aviation unless you develop the passion and hunger to research and plan your career and do whatever it takes to achieve your plan.   It's your plan, so own and execute it..
Great rewards await the intrepid amongst us who take the risk and jump to the challenges of flight.  Maybe you will be one of them.   Maybe you will experience the delights of this Boeing 737 pilot.
Anything is possible if you have the mindset and the will and desire to do it and put the time in (Roger Clemens)
There is a piloting job waiting for every person who has the health, intelligence, drive, and commitment to forge their way into this leading edge, high tech, high risk career.
The graphs in Section Seven suggest that the aviation industry will continue to double every 15 years . Discuss the topics I have listed here with other pilots and your mentor.
Ask opinions from retired pilots who have successfully navigated a lifetime of aviation's challenges.   These old and wise pilots are the true heroes, with memories laced with nuggets of wisdom gleaned from occasional  errors in judgement and experiences surviving  fate's unexpected and unthinkable events.    These mentors deserve your highest respect, for they are the world's best risk experts who worked day-in, day-out, flying along the edges of chaos in the most leading edge, high tech and risky industry, all the time protecting their passengers from harm.
If I have had good foresight and luck in my career, it is only because I have been standing on the shoulders of these past aviation giants. If you could be so fortunate …..
I have been very fortunate during my life to have received much from family and friends.  It is my turn now, my privilege and duty to give back to the younger.     My final mentoring support comes from the last paragraph in Jim Collins great book on Level 5 Leadership, entitled "Good to Great":
"When all these pieces [of advice] come together, not only does your work move towards greatness, but so does your life.  For in the end it's impossible to have a great life without having a meaningful life.  And it's very hard to have a meaningful life without meaningful work.  Perhaps then, you might gain that rare tranquility that comes from knowing that you've had a hand in creating something of intrinsic excellence that makes a contribution.   Indeed you might also gain that deepest of all satisfactions knowing that your short time here on earth has been well spent and that it mattered".
Many people in their deathbeds reflect back over their past and ask just three questions:
Did I live wisely?,
Did I love unconditionally?, and
Did I matter (serve greatly and make a difference)?
As a fledgling pilot you can look forward to an aviation career that offers you the ability to seize the joy and excitement in every day of your life and to answer "YES!" to all three questions.
If you need a role model, then look no further than Captain Eric "Winkle Brown" or  Dave Goldberg, who ticked all these boxes.  Will someone write this about you when you are gone?   If not, then WHY not, and HOW will you change?
Coral and I send our very best wishes to you as you embark on your safe, happy and fulfilling career.    I promise you fun and rewards and that you will matter!

Ideas are free, execution is priceless.    It won't be easy, because the great things never are.
Never give up!   When you get knocked down, you will get back up again.   Failure is not an option.
Be strong.  Shine.
FLY!
14.  For More Information
Back to: Aviation Pathways
At QF32.Aero:
Other Reading:
Other Pilot's Experiences:
Feedback
Back to: Aviation Pathways
Please write a comment below if you have any corrections for this page, or suggestions to help our future generations of pilots.
Subscribe to this site (at the top of this page) to receive updates.